How Christian McCaffrey is tracking against past MVP running backs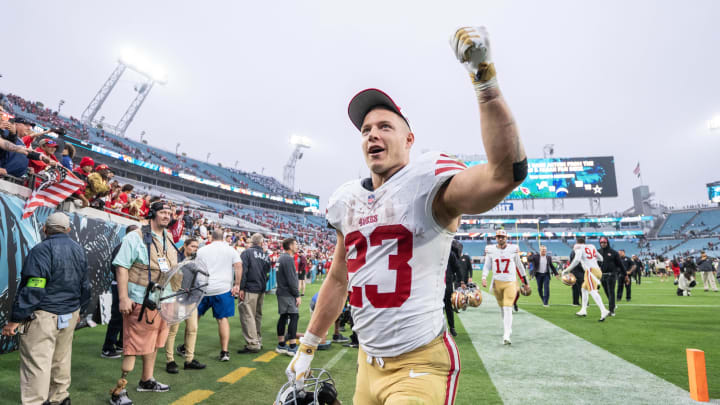 San Fransisco 49ers Christian McCaffrey (23) / Jeremy Reper-USA TODAY Sports
Running back Christian McCaffrey of the San Francisco 49ers has been included in a number of MVP conversations throughout the course of the 2023 NFL season.
McCaffrey is certainly making a good case for himself as he is currently leading the league in rushing with 747 yards. He's also over 100 yards ahead of second place.
He's also tied a crazy NFL record, scoring a touchdown in 17 straight games.
It will be an uphill battle, as that award has gone to quarterbacks more often than not,
statistically speaking. However, in the past 20 seasons, the only other position group to take an MVP award away from quarterbacks has been the running backs.
Let's take a look at some of the past running backs who won the MVP award in the past 20 seasons, and how McCaffrey compares to them through nine games.
Adrian Peterson
The last non-QB to win the NFL MVP Award was running back Adrian Peterson back in the 2012 season with the Minnesota Vikings.
Peterson rushed for 2,097 yards that year, the second-best rushing yardage finish in a season to this day. He also joined an exclusive club of only seven players at the time (now eight) to rush for over 2,000 yards.
Nine games into the 2012 season, Peterson had 957 yards rushing and six rushing touchdowns.
McCaffrey might be slightly behind him in the yards on the ground department, but he beats him in the rushing touchdowns department with nine.
LaDainian Tomlinson
Prior to Peterson, LaDainian Tomlinson of the (then) San Diego Chargers was the last running back to win the MVP Award back in the 2006 season.

Tomlinson was known as a dynamic runner as well as a great pass catcher out of the backfield, much like McCaffrey these days.
Through nine games in the 2006 season, Tomlinson had 44 receptions for 377 yards receiving and two receiving touchdowns.
McCaffrey through as many games this season only has 38 receptions for 339 yards receiving. However, he beats Tomlinson in receiving touchdowns with four.
Shaun Alexander
The third running back in the past 20 seasons to win the NFL MVP Award was Shaun Alexander of the Seattle Seahawks in 2005.
Alexander had been prolific getting into the end zone in his MVP season, and through nine games he already had 17 rushing touchdowns.
That number is almost double what McCaffrey has to this point as far as rushing touchdowns. Alexander also averaged 5.36 yards per attempt to McCaffrey's 4.9.
As good as Alexander was as a runner, though, he didn't have nearly the receiving ability that McCaffrey has.
McCaffrey, as mentioned earlier, has 339 yards receiving. But where he might edge out Alexander, who didn't get as many targets, is in catch percentage.
Alexander had a 42.1 percent catch percentage, whereas McCaffrey has an 80.9 percent catch percentage through as many games.
McCaffrey might not hit the big rushing yardage numbers these past running back MVPs reached. However, his dual-threat ability as a receiver could have him ending up with more scrimmage yards than the three others mentioned.
Although many great players have been putting up numbers this season don't sleep on McCaffrey.
Read more from Niner Noise