3 teams who grab Jimmy Garoppolo right away if 49ers cut him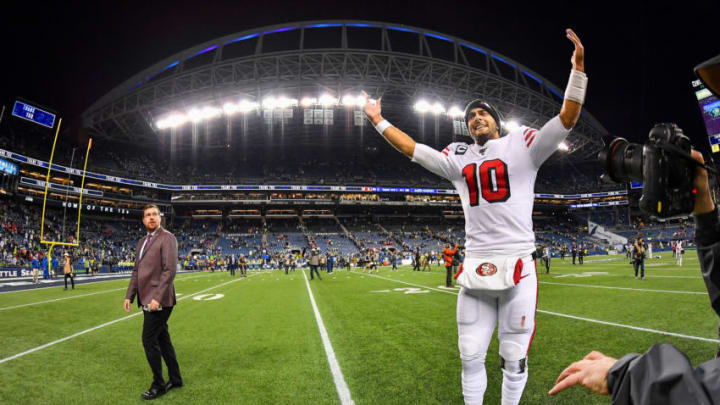 Jimmy Garoppolo #10 of the San Francisco 49ers (Photo by Alika Jenner/Getty Images) /
The 49ers have run out of most options to trade Jimmy Garoppolo and could be forced to cut him outright. If so, these three teams could come calling.
Perhaps the San Francisco 49ers overplayed their hand in the desire to trade veteran quarterback Jimmy Garoppolo this offseason.
Or, just as likely, the Niners were merely the victims of a completely unpredictable development of quarterback movement in 2022, the likes of which have highlighted what's been a wild offseason thus far.
It's hard to say. Without corroborating reports and actual statements from San Francisco's front office, none of us may know for quite some time.
What is pretty clear, however, is the trade market for Garoppolo has all but dried up, the fact he's a middle-of-the-road 30-year-old quarterback with a $25.5 million post-trade cap hit for 2022 and one who's coming off a significant shoulder surgery that'll keep him from throwing until training camp.
The 49ers may be faced with the hard reality of not being able to trade him at all this offseason. And with the desire to clear that $25.5 million in order to pave the way for last year's high-profile rookie quarterback, Trey Lance, simply releasing Garoppolo outright once he can medically pass a physical might be the Niners' final option.
It would be one thing for other teams to pass on Garoppolo if it involved taking on that cap hit and dishing out compensation for the right to do so.
It would be another if those teams could merely sign him as a free agent, negotiating their own market-value deal instead of having to trade for him.
If San Francisco does end up releasing Garoppolo this offseason, these three teams likely pick up the phone and call his agent right away.