49ers news: Nick Bosa predicted to be Defensive Player of the Year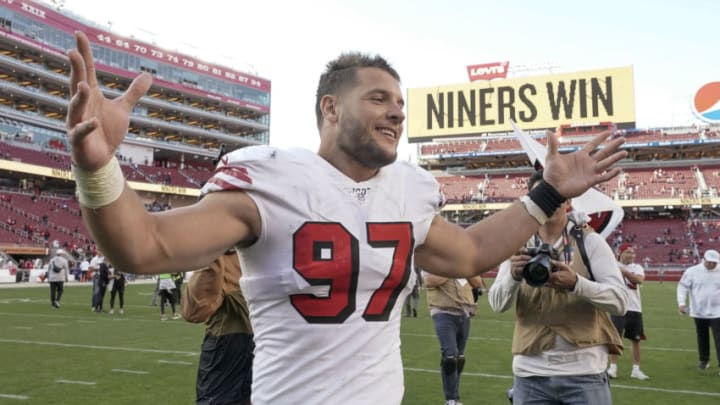 San Francisco 49ers defensive end Nick Bosa (97) Mandatory Credit: Stan Szeto-USA TODAY Sports /
Snubbed for an All-Pro selection in 2021, 49ers EDGE Nick Bosa might be poised to take home the loftiest of defensive accolades in 2022.
It's anyone's guess why the Associated Press didn't name San Francisco 49ers EDGE Nick Bosa as a first- or second-team All-Pro after his stellar 2021 season.
After all, Bosa's 15.5 sacks were right up there among league leaders, and he also led the league with 21 tackles for a loss despite the Niners not having another double-digit sack artist to take some of the pressure off of him.
Nevertheless, Bosa did earn his second Pro Bowl nod after coming back from a torn ACL suffered early in the 2020 campaign, and now he's poised for even greater things heading into 2022.
Especially according to some lofty predictions for the upcoming season from NFL.com's Adam Schein.
NFL.com predicts Nick Bosa will win 2022 Defensive Player of the Year award
Typically on an annual basis, the Defensive Player of the Year award winds up going to Los Angeles Rams perennial All-Pro defensive tackle Aaron Donald, a player San Francisco obviously knows well.
Donald will always be in that conversation, which is something Schein pointed out in predicting Bosa would take home this accolade once 2022 is in the books, having written:
"Aaron Donald is always the pick. Or he should be. They should just go ahead and name the award after him. That said, there is such a thing as voter fatigue. And given the fact that Donald is currently in a contract stalemate that has him floating the potential of retirement, maybe it takes him a few weeks to play like a legend once the deal presumably gets done. Or maybe, just maybe, this freak in San Francisco gets the love he fully deserves."
Still, Schein is looking towards Bosa to finally make the mark as the best defender in the league this season:
"As an Associated Press voter, I had Bosa as a first-team All-Pro last season. The man racked up 15.5 sacks during the regular season, and then added four more in three postseason games. He's the best all-around player on a loaded team that features transcendent talents like Trent Williams and Deebo Samuel. Bosa sacks the quarterback, stops the run and generally strikes fear in the hearts of offensive linemen and offensive coordinators."
Read More: Why Nick Bosa puts forth a monstrous 2022 campaign
That certainly wouldn't be bad news for the 49ers, who did their best to assure Bosa received more help during the offseason, highlighted by using their second-round NFL Draft pick on former USC EDGE Drake Jackson, a move intended to land a complementary pass-rusher to free up Bosa for more favorable opportunities.
Of course, a monstrous 2022 campaign from Bosa will only serve to drive up his price tag even though the Niners already picked up his fully guaranteed fifth-year option for 2023.
Perhaps to the point where Bosa winds up being the most expensive defensive player in the league in the not-so-distant future.