Power ranking all NFC West teams ahead of 2022 NFL Draft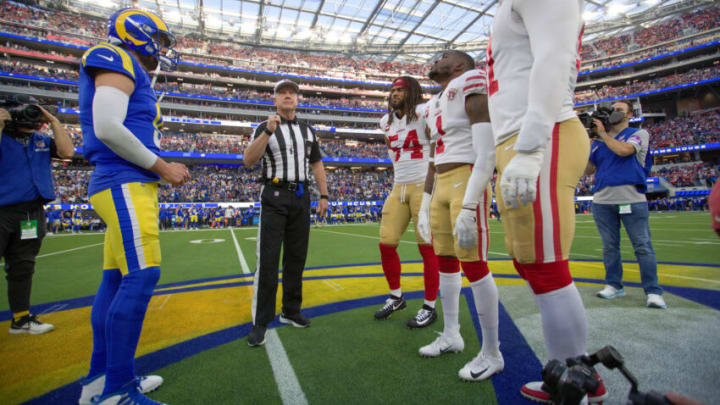 Captains of the San Francisco 49ers and the Los Angeles Rams (Photo by Michael Zagaris/San Francisco 49ers/Getty Images) /
The NFC West might not be the gauntlet it was a year ago, but the 49ers still figure to have their hands full in 2022, especially after the NFL Draft.
One could make the relatively easy argument the NFC West is no longer the predominant division in football heading into 2022.
No, that distinction probably goes to the AFC West now, particularly after the massive arms race that took place at the start of the league new year last month. Quarterback Russell Wilson going from the Seattle Seahawks to the Denver Broncos only fueled the quarterbacking drama, him now competing with the likes of the Kansas City Chiefs' Patrick Mahomes and the Los Angeles Chargers' Justin Herbert, while the Las Vegas Raiders also brought aboard former Green Bay Packers All-Pro wide receiver Davante Adams to keep pace.
Wilson's departure does have a massive impact on his former NFC West conference, though, as the Seahawks appear to be hitting a full-scale rebuild this offseason.
Great news for the San Francisco 49ers, who viewed no other team as a top nemesis more over the last 10 years.
That'll shake things up within the NFC West, sure, and the division isn't as strong as it used to be.
However, it still boasts the Super Bowl-champion Los Angeles Rams, while both the Niners and Arizona Cardinals are playoff-caliber teams entering the upcoming season, too.
So, while the NFC West might not be as big a threat as it was a year ago, it's still potent. And with the 2022 NFL Draft just around the corner, let's break down the teams herein, NFL power rankings style.