49ers bring back Mohamed Sanu, sign Nathan Gerry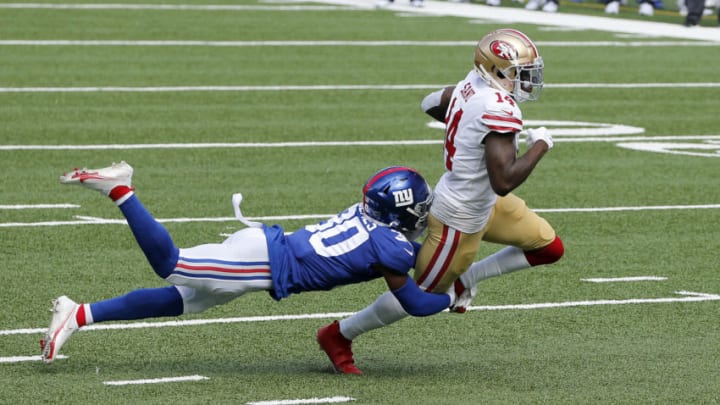 Mohamed Sanu Sr. #14 of the San Francisco 49ers (Photo by Jim McIsaac/Getty Images) /
The 49ers kept rounding out the back end of their depth chart, bringing back veteran wideout Mohamed Sanu while inking linebacker Nathan Gerry.
The San Francisco 49ers mostly dominated the NFL news on Friday, executing a blockbuster trade with the Miami Dolphins that moved the Niners up in the 2021 draft order from No. 12 overall to No. 3.
That transaction now creates all kind of buzz about which quarterback San Francisco will select in a top-heavy quarterbacking class, not to mention the immediate future of its starter, Jimmy Garoppolo.
Yet Saturday morning's news wasn't quite as flashy, although the 49ers weren't totally quiet after Friday's hysteria.
According to his agent, Mike McCartney, veteran wide receiver Mohamed Sanu is signing with the Niners on a one-year deal:
Sanu had a brief three-game stint with the Niners early in 2020 when head coach Kyle Shanahan's squad was dealing with a plethora of injuries and absences at the position amid the pandemic. During that brief stretch, Sanu managed just one catch for 9 yards before being released and finishing out the year with the Detroit Lions.
Yet the 31-year-old Sanu worked with Shanahan before when both were with the Atlanta Falcons in 2016, and Shanahan didn't hesitate to use the 6-foot-2, 215-pound receiver as a big-slot weapon.
In the wake of No. 3 wide receiver Kendrick Bourne departing for the New England Patriots in NFL free agency, Sanu will at least compete for a spot on the 53-man roster while doing something he performed, albeit briefly, last season: mentor some of San Francisco's other younger wideouts like Brandon Aiyuk.
Over his career, Sanu has 420 receptions for 4,694 yards and 27 receiving touchdowns.
49ers add special teams linebacker Nathan Gerry
The 49ers don't have to worry too much about their linebacker depth chart, at least not with Fred Warner, Dre Greenlaw and Azeez Al-Shaair in the fray.
Yet the Niners elected to bring aboard former Philadelphia Eagles linebacker Nathan Gerry, according to a report from NBC Sports Philadelphia's John Clark:
Gerry, 26 years old, was the Eagles' fifth-round pick from the 2017 NFL Draft and figures to add both depth at the position while serving as a special teams contributor.
In 2019, Gerry appeared in 16 regular-season games, starting 12 of them, while also appearing on 74 percent of Philadelphia's special teams snaps. Last season, Gerry started seven games and had 57 tackles, a sack and two passes broken up.
In the wake of San Francisco parting ways with veteran linebacker Mark Nzeocha, it seems likely the team intends Gerry to be a younger, cheaper option to bolster the 49ers depth at the position while adding someone experienced on special teams.
Whether or not Gerry makes the 53-man roster come Week 1 is anyone's guess, although having some quality experience to both back up the Niners' starting linebacker group while contributing on special teams is always a bonus.
It's likely these will be the kind of free-agent moves San Francisco makes between now and the draft, as fans across the league remain focused on what Shanahan and Co. do now with the No. 3 overall pick.