SF 49ers: Final bubble watch ahead of Week 1 roster cuts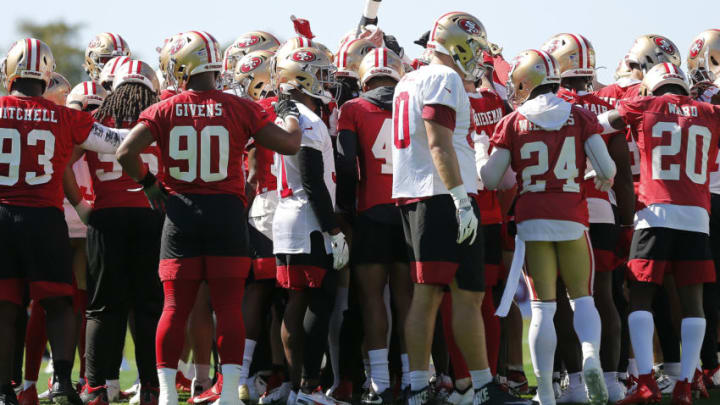 The San Francisco 49ers (Photo by Michael Reaves/Getty Images) /
The SF 49ers during training camp (Photo by Michael Zagaris/San Francisco 49ers/Getty Images) /
The SF 49ers must trim their offseason crop of players down from 80 to form the 53 man roster in advance of Week 1, giving time for one last bubble watch.
It's been an odd offseason for the SF 49ers and for the other 31 teams across the league, for that matter. A pandemic, a remote NFL Draft, no spring workouts, altered training camps, no preseason and 80-man rosters instead of the typical 90-man offseason rosters we'd usually be talking about in the final days leading up to Week 1 of the regular season.
But some stories are still the same. In a few hours, roughly a third of all teams' rosters are going to be chopped, as those 80 players are trimmed into a 53-man roster. As in previous years, there'll be a brief scramble as other teams look to swoop in on waiver claims and newfound free agents. Then there'll be the efforts to land players on practice squads, the rules in 2020 being a bit different than before with some spots open for veterans who otherwise wouldn't be eligible.
For the Niners, who don't exactly have a large number of roster spots up for grabs, many of the 80 players finishing up training camp are vying for perhaps one of only 10 spots on the 53-man roster.
The rest? Well, they can hope for active-roster jobs elsewhere around the league or at least a spot on the team's practice squad.
With final cut announcements coming later on Sept. 5, Niner Noise explores one last bubble watch to preview the tough decisions general manager John Lynch and head coach Kyle Shanahan have to make.
Per usual, let's break this down into the following categories:
Lock
Strong bubble
Weak bubble
Long shot
Starting off with an area of no drama, special teams.
* denotes rookies