SF 49ers: How NFL's loose attendance plan may affect Niners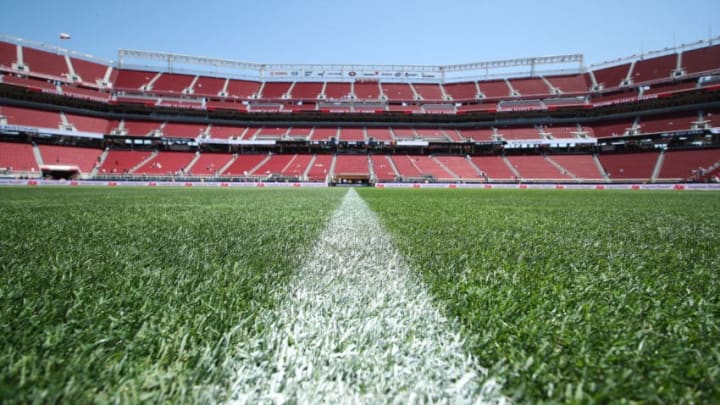 Levis Stadium, home stadium of the SF 49ers (Photo by Robbie Jay Barratt - AMA/Getty Images) /
Niner Noise looks at how the SF 49ers could be affected by the NFL's loose attendance policy this season.
With the 2020 NFL season just around the corner, league officials have established on-field protocols to help keep teams' players and personnel as safe as possible amid the pandemic. However, with each state following its own set of guidelines for reopening, the NFL is leaving the decision of fan attendance to each organization and their local officials.
That creates a myriad of challenges for teams, and the SF 49ers are no different.
The first is, of course, the economic disparity that will occur, as some teams like the Kansas City Chiefs for example, will allow 25 percent capacity to begin the year, while the Niners will have no fans on attendance for the first month of the season. According to money.co.uk, San Francisco will lose over $1 million in concessions alone for each home game without fans.
While the SF 49ers may be able to have fans attend their home games at some point this season, currently that would add up to over $8.2 million in lost revenue on concessions alone for 2020.
How that would play into the salary cap situation going forward is yet undecided. For the Niners, who are already nudged up against the salary cap, the implications for the 2021 season are already being felt after the NFLPA and the league agreed to a salary cap as low as $175 million next season. The residual fallout for seasons thereafter may be a flat salary cap with a small incremental raise rather than the typical annual bump based on television contracts and revenue.
General manager John Lynch discussed the issues with The Athletic's Tim Kawakami, saying:
"Because what we were budgeting for moving forward with COVID-19 and everything, I think we were budgeting for $220-225 million for 2021, it looks like it's gonna be closer to $175 million, so that's a big deal."
Immediate ramifications of no-fan policy on SF 49ers
The second challenge the 49ers face, along with the other 22 NFL teams currently with a "no fan" attendance policy, is a competitive advantage or disadvantage in having fans in some stadiums and not others, and how that plays out.
While the SF 49ers organization has taken plenty of steps to adhere to the local, state, and league mandates in regards to distancing, sanitizing, and mask compliance, there are no guarantees that as the season progresses, the policies will not change.
NFL Commissioner Roger Goodell and the league have always worked to at least portray a level of competitive balance for all organizations in all aspects both on the field and off. But to say they have struggled in some aspects of that over the years (Bountygate and Spygate, for example) would be an understatement. However, while some stadiums may not have any fans attending, screaming, or creating noise and disrupting the other team's offense, the ones that are able to fill 25 percent or 50 percent (the Dallas Cowboys, for example) of its seats will most assuredly experience some level of a home-field advantage.
Under normal circumstances and conditions, that is not a problem. However, if teams have common opponents, and those are used as tie-breakers for potential playoff spots, depending on when you played a team and the attendance policy in effect at that time, it could potentially provide a competitive imbalance throughout the league. It also will create discontentment and confusion, especially if there are playoff ramifications.
In fact, Buffalo Bills head coach Sean McDermott and Minnesota Vikings head coach Mike Zimmer have already been vocal about this very issue:
For now, the 49ers will fill the seats closest to the field at Levi's Stadium in a variety of ways, including covers, cardboard fan cutouts, sponsor logos, and league and team messaging to name a few.
If the team is eventually able to have fans attend this season, those lucky fans will enter the stadium through gates that are based on their seating location, most likely be required to wear masks, maintain safe social distancing as much as possible. There also will surely be enhanced sanitizing and cleaning protocols, sanitizer stations placed all around the stadium, cashless concessions, and limited movement around the stadium.
Having lost last year's Super Bowl, the Niners were already facing a daunting uphill battle and the historic precedence of Super Bowl runner-ups struggling the following season to return and win the Super Bowl. And while the pandemic has certainly attempted to make that an even bigger obstacle, the 49ers seem extremely motivated and hungry to finish the 2020 season as Super Bowl Champions.
While most of us would like to forget 2020 altogether, a Lombardi Trophy in the championship case at 4949 Marie DeBartolo Way would certainly go a long way in making it pretty unforgettable for Niner fans.