49ers news: Levi's Stadium look like with no fans in attendance?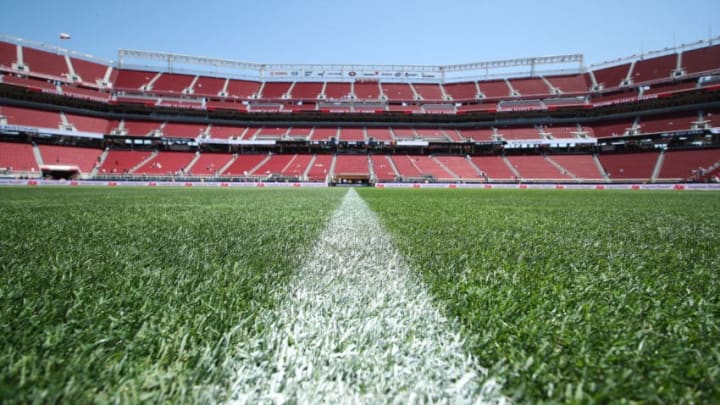 Levis Stadium, home stadium of the SF 49ers (Photo by Robbie Jay Barratt - AMA/Getty Images) /
The 49ers could be facing a weird normal with zero fans at Levi's Stadium this year.
Have you ever been inside an empty stadium before? Whether it be a tour of the San Francisco 49ers' home digs at Levi's Stadium or arrived at an event long before it started. If you haven't, here's what it's like:
No noise, no concession stands open, and depending on the time of year, it could look cold and lonely.
Now add players, coaches, and a handful of media. There you have it. The temporary "new normal."
We've already seen some sporting events run without fans. WWE continues their pay-per-view events and weekly shows, while NASCAR just had their first race without anyone in the seats. The UFC had a fighter test positive for COVID-19.
The UFC canceled his fight but moved on with the event.
It was only a month ago California Gov. Gavin Newsome said watching sports in stadiums was "unlikely" for another four months. Now the keywords here are "watching in stadiums." At the time it sounded like all sporting events in California would be a no-go. However, the script has changed.
In a positive outlook, Gov. Newsome said professional sports teams could return but without fans. Though it's not ideal for those who spent money on tickets and accommodations, it's still something to save our sanity.
So how weird will it be to see nobody in Levi's Stadium?
Well, we can think back to when Levi's first opened in 2014 and the 49ers weren't great for a number of years afterward. A lot went into people not going: team performance, ticket prices and location to name a few. But after watching the Niners dominate last season and seeing the Faithful show up to home games, it'll be different to see absolutely nobody in the seats.
The MLB is the leader in trying to get their league underway, which will influence how the NFL and 49ers conduct their seasons. ESPN's Jeff Passan talked about the changes MLB proposed to its teams. It includes 10,000 tests for the coronavirus each week and sets guidelines for interaction, some of which the NFL will adopt.
In his article, Passan said "high-fives, first-pumps, and hugs will be prohibited." Depending on what level the NFL is at with COVID-19, they could adopt this rule as well. Though football is a physical sport, the NFL will want to limit the amount of extra-human interaction as much as possible.
MLB also said players and staff would be sitting in the stands to maintain social distancing. By this standard, the only people sitting in the seats of Levi's Stadium will be getting paid to do so. The NFL could ask all coordinators and other personnel to sit behind the benches, leaving the head coach and medical staff on the field.
One of the positives with no fans in the stands will be the opportunity to listen to field banter. NFL Films has done an extraordinary with their Mic'd Up moments throughout the years, but this could be an opportunity to allow fans to hear quarterbacks call audibles among other things.
The CFL has done live mic games for a couple of seasons. There is a five-second delay to allow the audio crew a chance to mute non-family words. In one of the first games of the 2018 season, the Hamilton Tiger-Cats and Winnipeg Blue Bombers had their head coaches and quarterbacks mic'd up.
Live mic'd games in Canada have been met with mixed reactions. Many people, including myself, enjoy listening to the play calls and banter, while many felt it was unnecessary. No matter what, it brought the fans closer to the game, which could be something the NFL could capitalize on with such a larger market around the world.
Without a doubt, the 2020 season will be the strangest of them all. Whether fans are in the stands or not, we can almost certainly agree to watch any type of sports right now will do us all a bit of good.