2019 NFL Draft: 5 49ers prospects from the East-West Shrine Game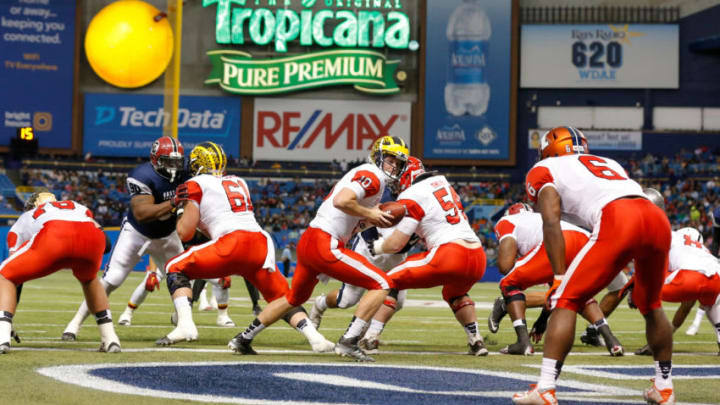 ST. PETERSBURG, FL - JANUARY 23: Jake Rudock #10 from Michigan playing on the East Team takes the snap against the West Team during the first half of the East West Shrine Game at Tropicana Field on January 23, 2016 in St. Petersburg, Florida. (Photo by Mike Carlson/Getty Images) /
Jake Rudock #10 from Michigan playing on the East Team (Photo by Mike Carlson/Getty Images) /
The first step on the road to the 2019 NFL Draft is over, with the East-West Shrine Game concluded. Niner Noise looks at five players who improved their draft stock during the game and should be on the 49ers' radar.
The road to the 2019 NFL Draft has begun for the San Francisco 49ers, as some more unsung players competed in the East-West Shrine Game this weekend.
While you won't find any first-round picks playing in this game, many players helped their draft stock and played themselves onto draft boards across the NFL.
Some additional players put themselves on the draft map for other NFL teams, but you won't find quarterbacks, slot receivers or defenders only suited for a 3-4 defensive front on this list of potential Niners.
Teams are always looking for a home run in the later rounds; look no further than the 49ers' own tight end George Kittle — a fifth-round draft pick in 2017 — for a prime example.
Here are five players who made people take notice during Saturday's East-West Shrine Game, and could be potential fits on the 49ers' roster in 2019.