San Francisco 49ers: Measurements For Success in 2016 And Beyond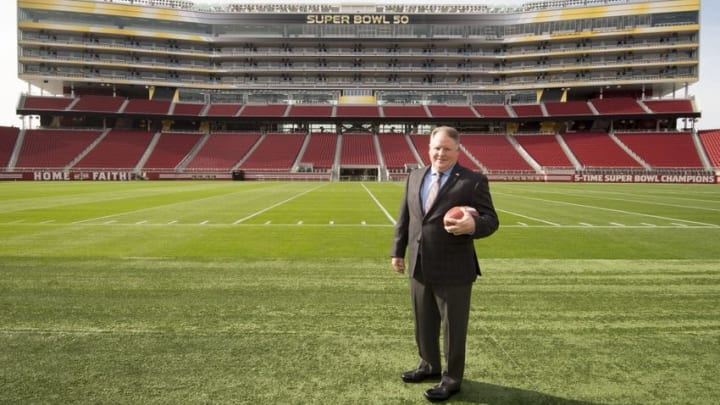 January 20, 2016; Santa Clara, CA, USA; Chip Kelly poses for a photo after being introduced as the new head coach for the San Francisco 49ers at Levi's Stadium Auditorium. Mandatory Credit: Kyle Terada-USA TODAY Sports /
The San Francisco 49ers are doomed to fail in 2016 (according to the "experts"). However, no one knows how this team will do until the games are played out on the field. There are three measurements which can be used this season and through the next offseason to determine just how successful this Niners squad can be.
Depending on who you ask, the Niners might win anywhere from zero, to one, to three, to five and even as many as ten games this season. The schedule, whether you believe is the hardest in the NFL or not, is at a minimum tough. There are the usual division games, but then this team also faces the Carolina Panthers on the road and the New England Patriots at home.
Whether these games equate to wins or losses (or, gulp, ties) is just one criteria which we need to take into account as fans in 2016. As fans, we want instant results and the team to turn things around in the snap of a finger.
We also understand success takes time and the right players, coaches and management team need to be in place. The Niners were very successful from 2011-13 with a good coaching staff, and top-notch players.
These positive elements went away (or were forced away) in 2015, resulting in a season of disappointment and incompetence. It was hard to see a franchise as proud as the San Francisco 49ers falling down so rapidly. It was brutal to experience.
Now there is a new coaching staff and several new rookies. The roster is young and is heavily dependent on how these younger players develop. Then on top of this, how do the more experienced players rebound?
Wins and losses are a key factor to determine success. The development of the younger players over the course of a season is another. And finally, can the coaching staff and the experienced players turn the fortunes around on the field and make the Niners a destination franchise again?
Let's take a look at these three factors in a little more detail.
Wins and losses
The bottom line is that the league is a wins and losses sport, and runs along the lines of "what did you do for me lately?".
Coaches are measured by how many wins they can induce out of their players, and the players are measured by their performance (or lack thereof) on the field.
In 2015, this team dropped to a paltry 5-11 record, with two of those wins coming in overtime. Head coach Jim Tomsula and offensive coordinator Geep Chryst were proven to be completely out of their depth in their roles, leading to this last-place division record and the league's worst scoring offense.
Mercifully, the Niners management admitted to their error in judgment and sent Tomsula packing. Then in January, in came former Philadelphia Eagles coach Chip Kelly. He implemented his own coaching staff.
Everything off the field is fresh for 2016.
Jun 8, 2016; Santa Clara, CA, USA; San Francisco 49ers head coach Chip Kelly speaks to the media during minicamp at the San Francisco 49ers Practice Facility. Mandatory Credit: Kelley L Cox-USA TODAY Sports /
Now can the players produce on the field? Can this team be competitive against top-tier teams? Arizona and Seattle just manhandled the Niners last season. There were losses to the Detroit Lions and, even worse, the Cleveland Browns and "Johnny Property Damage."
How the players understand and execute the schemes is critical in determining how 2016 plays out in terms of wins and losses. Can this team win more than five games? Can they get to .500?
We will know in six months. But the Niners have to win games. If they manage to win less than five games in 2016, is it a failure? Maybe. But you have to take into consideration the next measurement — player development.
Can the coaching staff develop the new players and the veterans?
It can be argued the Niners player development efforts have been below par in the last couple of years. Certain players remain inconsistent at best and bust material at worst. The most obvious examples are receivers Quinton Patton and Bruce Ellington, tight end Vance McDonald and defenders Corey Lemonier and Tank Carradine.
For the Niners to take the next step, the development of the players on the final roster has to get better. In fact, taking into account the overall youth, it is vital. The team has carried too many passengers into mediocrity and the coaching staff was just as mediocre, which only exacerbated the problem.
We have seen a few changes already this offseason, which should give us hope. The potential moves of safety Jimmie Ward to cornerback and Carradine to outside linebacker already are looking very encouraging.
November 27, 2014; Santa Clara, CA, USA; Seattle Seahawks quarterback Russell Wilson (3) passes the football against San Francisco 49ers defensive end Tank Carradine (95) during the fourth quarter at Levi's Stadium. The Seahawks defeated the 49ers 19-3. Mandatory Credit: Kyle Terada-USA TODAY Sports /
There are other players who need a kick in the pants. Quarterbacks Colin Kaepernick and Blaine Gabbert, the two receivers mentioned before and the whole offensive line are the main parts.
Maybe it's going too far to ask these respective players to have career years in 2016, but they need to show major development, mentally and physically, to maximize their talents at their respective positions.
Excluding Joshua Garnett and Zane Beadles, every other experienced Niner here need to show a solid grasp of the playbook and to do their job. It's very simple, really.
Improved player development bodes well for the Niners not only this season, but going into next season as well.
Attracting quality free agents for 2017
As of today the Niners are a mere $49,504,146 under the salary cap for 2016. Quite the number. You would of thought (I was one of them) the flexibility to sign some quality free agents would have come.
None did.
Indeed, general manager Trent Baalke is a little averse to spending money on free agents. He likes to build from the draft. This is a nice value. But is it a winning value?
January 20, 2016; Santa Clara, CA, USA; San Francisco 49ers general manager Trent Baalke addresses the media in a press conference after naming Chip Kelly (not pictured) as the new head coach for the 49ers at Levi's Stadium Auditorium. Mandatory Credit: Kyle Terada-USA TODAY Sports /
His draft record is spotty at best. There have been some good players drafted, but there have been flame-outs. This mixed record has led to the Niners going from one of the strongest rosters to one of the weakest.
Indeed, Pro Football Focus ranked the Niners with the worst roster for 2016 (h/t David Fucillo of Niners Nation).
Whether this is true or not can be debated (what about Cleveland for example?) but having the perception of a weak roster hurts attracting other players.
More from Niner Noise
When you combine this with the controversy of Kelly (another perception), how this influences a potential free agent coming to San Francisco (or Santa Clara) becomes an interesting question. Or perhaps it is the simple fact that Baalke will just not offer the necessary dollars to get a good free agent player.
No matter what pans out in 2016 regarding the Niners final record, with the team going to be a big way under next year's cap, some money has to be spent in trying to attract top-tier free agent talent. I'm not naming names here, that's for another time.
Take a read of Niner Noise's Peter Panacy's piece on the importance of getting the right players to the Niners.
But how can you not want to add more veteran talent to a youthful roster? Getting the right players could mean the difference between making the playoffs or not. It could also bolster the development of some of the younger guys and lead to more wins than losses.
If the first two measurables can be decidedly improved in 2016, and the team can become competitive against the best in the league, and Mr. Baalke can spend some dollars, all of these factors can come together to make the 2017 offseason for the Niners much more productive.
There is way too much proud history with this franchise to keep missing the playoffs every year.
Next: San Francisco 49ers: Bubble-Watch Players for Each Position
All statistics, records and accolades courtesy of Pro-Football-Reference.com and Sports-Reference.com unless otherwise indicated.