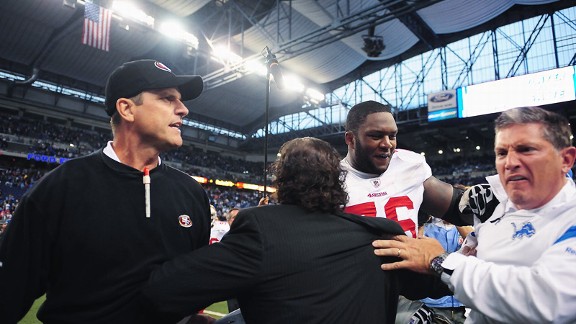 A crazy seasaw game saw the 49ers defeat the Detroit Lions 25-19 advancing to 5-1 forcing the league to take notice as they now enjoy a commanding lead in the NFC West. Here are my 10 key observations of the 49ers week 6 victory in the Shodown in Motown.
Chris Culliver is for real and will be a starter by season's end: Culliver came up huge today for the 49ers defense. While he didn't have an interception or any eye-popping stats he held his own vs the very best Calvin Johnson. Terrell Brown and Culliver shared the responsibility most of the game of covering the Lions potent WR nicknamed Megatron. While Johnson went over 100 yards receiving he didn't have any back breaking plays and most importantly zero touchdowns. Somebody called that today, can't remember who though oh well.
Aldon Smith WILL win Defensive Rookie of The Year: I'm sorry if you guys are tired of me gushing of this kid but can you blame me? If you can sorry because I can't help it and I don't anticipate being able to control the urge in the foreseeable future. This guy is awesome! He recorded another 2 sacks today bringing his season total to 6, he's on pace for 16 sacks this year and while he probably won't get that many he's doing very well so far. The coaching staff should be given a lot of credit here, Smith was drafted to play Outsidelinebacker and while he has sparingly he's mostly played Defensiveend this season. Defensive Coordinator Vic Fangio admitted he didn't know if he was ready for extended time at OLB yet. Playing Smith in a role he is comfortable and can contribute rather than trying to force things early in his career has turned out to be a great decision.
Alex Smith no longer allows himself to be shaken: Alex didn't have the best game, his stats make him look worse than he really was. Smith let a few passes sail on him today with 1 ending up in the hands of a Detriot defender, others fell incomplete while Michael Crabtree did a nice job of halling some in. In a tight game, a very hostile environment and things not going Smith's way Alex stayed poised, looked confident and didn't force things. The 4th down TD pass to Delaine Walker said it all to me, it demonstrated the confidence Jim Harbaugh has in his QB by not calling timeout and allowing Smith to make the necessary play. With the game on the line Smith stood in the pocket and delivered a perfect dart to Walker for the score.
Maybe another WR wouldn't hurt: I'm going to retract a statement I made earlier today when news broke that the 49ers were one of 3 teams in play for Denver WR Brandon Lloyd. I said I'd rather pass, with Braylon Edwards coming back after the bye week and Crabtree playing well no need to add another receiver to sit on the bench. After all it's not like this team really uses it's 3rd wideout that much. After thinking about it and watching the game today I've changed my mind and here's why. Crabtree and Vernon Davis were the only big time playmakers on the field (Walker isn't there yet) and Davis was virtually invisible today. If one or both of those guys were hurt the 49er offense would be in serious trouble. After all it's not like it's guaranteed Edwards will be at 100% when he returns, another playmaker couldn't hurt. Apparently only a mid round pick would be required to obtain Lloyd, if that's right maybe the 49ers should invest in him.
The Jim Harbaugh, Jim Schwartz exchange at the end of the game was utterly ridiculous. I understand sportsmanship and I get that Schwartz probably wasn't thrilled that Harbaugh was basically jumping around when they met to shake hands. But comeon people! Are we really that dull of a society that we can't celebrate after a win? We need to walk calmly down and shake the losers hand just to make sure noone could possibly be offended? After watching and rewatching the exchange it's obvious Harbaugh was just excited, he saw Schwartz and gave him a handshake and a pat on the back, can we prosecute this man right now please! Give me a break, if you can't handle someone being happy after winning then go home Schwartz. And by the way your stupid chase of him was twice as classless as anything Harbaugh is guilty of. You really want some of Harbaugh man? I'd love to see that on pay per view, I got $1,000 on my boy Harbaugh that he crushes you then asks "what's your deal bro?"
More game reactions on page 2

The 49ers running game has evolved imensly: The combination of Frank Gore and Kendall Hunter is reminding me a lot of Fred Taylor, Maurice Jones-Drew combo when MJD was first breaking into the league and Taylor was still the star. Gore was again awesome in this game, needing just 15 carries for 141 yards. Hunter while outshadowed by Gore looked good himself as he adds another dimension to the Niners rushing attack. Jim Harbaugh and Greg Roman are finally doing something that has needed to be done for several years now, integrating another RB in the game plan each week. One that compliments Gore's power attack with a more outside edge rusher to keep teams off balance.
No more could be/Will be-Patrick Willis and Navarro Bowman form the best ILB combo in the NFL: Simply put Willis is the best ILB in the NFL right now and has been for at least 2 seasons. Bowman has burst onto the scene this year, after letting Takeo Spikes sign with the Chargers and giving Bowman the starting spot he has been unstoppable, even dare I say it Willis like.
The David Akers free agent signing is way underrated: Former 49er kicker Joe Nedney was the best the 49ers have had in a long time. After being injured at the end of the last 2 seasons however his time in the NFL was over. Credit the 49ers for getting in front of it and making Akers a free agent priority this offseason. Akers hit a 59 yard FG in the preseason and has hit 3-3 opportunities from beyond the 50 yard mark this season. His only 2 misses came vs Philadelphia where he had one blocked and shanked his first attempt.
Vernon Davis really needs to get more involved in the offense: Davis was invisible today as the fellow tight end Delaine Walker caught the game winning TD. Davis had just 2 catches for 8 yards, after coming up big in Philadelphia and vs the Bucs with 3 TD receptions the last 2 games it was hard to find Davis on most 49er offensive plays. It was hard to tell if it was the game plan or VD failing to get open, or maybe it was Alex Smith failing to find him who knows. Whatever it is the team needs to make it a priority to figure it out during the bye week.
The red zone defense deserves the game ball: I gave my player of the game awards to Frank Gore and Aldon Smith. If a unit could have gotten the award the red zone D was the most deserving. Coming into the game the unit was ranked first giving up TDs only 26% of the time when the opponet is in the red zone. Sunday the 49ers did another great job in the red zone and held Calvin Johnson in check where he is the most dangerous.
I can't mention a unit's performance without touching on the offensive line. Another nice game by the unit, after a shaky start with several false start penalties and that dreadful first offensive play in which Alex Smith was sacked/striped of the ball about 2.3 seconds after the snap. The group gave up just 2 sacks to this great Detroit defensive line and did an excellent job in the running game. The 49ers weren't afraid to run the ball right up the gut against Suh/Fairley the play of the OL may be the difference offensively opening up key holes on those huge Gore runs.
Follow me on twitter @Matt_NinerNoise
Tags: 10 Key Observations 49ers Vs Lions 10 Key Observations 49ers Vs. Lions Aldon Smith Alex Smith Anthony Davis Braylon Edwards Carlos Rogers Chris Culliver Dashon Goldson Delaine Walker Frank Gore Greg Roman Isaac Sopoaga Jim Swartz Joe Staley Justin Smith Kendall Hunter Michael Crabtree Navarro Bowman Patrick Willis Penalties Ray McDonald Shawntae Spencer Terrell Brown Vernon Davis Vic Fangio Week 6