What NFL Restricted Free Agency means and how it effects 49ers in 2023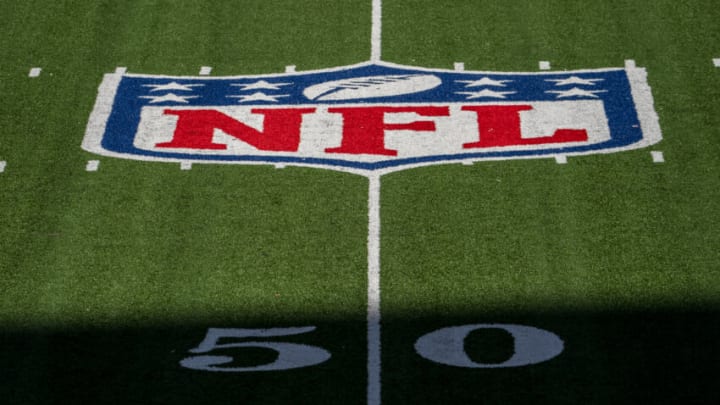 A detailed view of the NFL logo at mid field during a regular season game between the New York Jets and the San Francisco 49ers at MetLife Stadium on September 20, 2020 in East Rutherford, New Jersey. (Photo by Benjamin Solomon/Getty Images) /
Teams like the 49ers have a little more control over free-agent players who are hitting restricted free agency during the offseason.
Die-hard NFL fans who spend at least eight hours a day pouring over league news, free agency and NFL Draft content probably don't need to read further.
Unless it's to fact-check Niner Noise's work.
For the rest of you, particularly those who are struggling to understand how NFL free agency works during any given offseason, pay attention. We've got a need-to-know class on a certain type of free agency: restricted free agency.
The Football 101 course should state that when a player's contract expires, he becomes one of three different kinds of free agents:
Unrestricted free agent
Restricted free agent
Exclusive-rights free agent
The first and the third kinds are the easiest to explain. An unrestricted free agent means he's not restricted by anything, essentially, and he's free to sign with any team once the league's new year begins.
Exclusive-rights free agents, meanwhile, aren't exactly free agents at all. They can only negotiate contracts with the respective teams that hold their rights.
Now, players in restricted free agency are a bit more confusing.
What is NFL restricted free agency?
Accrued seasons matter, so a player with three accrued seasons would classify as a restricted free agent (RFA), whereas after four accrued seasons, that player becomes an unrestricted free agent.
These players are free to sign with any team once NFL free agency hits, but RFAs can receive qualifying offers from the teams that previously held their contracts.
NFL.com breaks down what happens next:
"Their original team can offer them one of various qualifying offers ("tenders") that come with the right of first refusal and/or draft-pick compensation. If the tender is withdrawn by a team, the RFA becomes an unrestricted free agent."
There are three kinds of tenders, a first-round tender, a second-round tender and a right of first refusal.
If the RFA signs with another team after the original team submitted a qualifying offer, the signing team then has to offer up NFL Draft compensation in the form of the round tender, unless it's the right of first refusal where the original team can match the outside offer.
It's why RFAs rarely sign with other teams.
Here's the cost associated with what original teams have to pay per RFA tender in 2023, as broken down by Over the Cap:
First-round tender: $6.005 million
Second-round tender: $4.304 million
Right of first refusal tender: $2.627 million
The amounts typically increase by approximately $200,000 per year, so it's not a fixed amount.
So, how does restricted free agency impact the San Francisco 49ers heading into 2023?
Do the 49ers have any players hitting NFL restricted free agency in 2023?
Yes, the Niners do have players who are going to be classified as restricted free agents this offseason.
There are three, as listed by Over the Cap, who are going to be RFAs in 2023:
DL Kevin Givens
LB Demetrius Flannigan-Fowles
OL Colton McKivitz
Read More: Full list of each 49ers free agent entering 2023 offseason
It might seem automatic for San Francisco to tender each of these three players. However, going back at the costs associated with each kind of tender, do the 49ers view someone like Flannigan-Fowles as being worth $4.3 million?
Perhaps, but it's not likely. This is why plenty of teams don't offer their RFAs the qualifying tenders, thereby allowing them to hit the open market as unrestricted free agents.
If anything, whether or not the Niners tender any of their RFAs this offseason will be a good indication of just how important those players are viewed by the front office heading into 2023.
Full NFL free agency opens at the start of the league new year on March 15, 2023.