Injuries, penalties derail 49ers NFC Championship bid vs. Eagles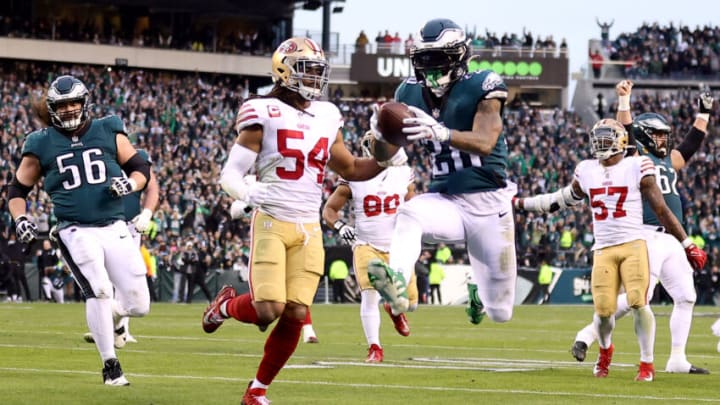 Miles Sanders #26 of the Philadelphia Eagles (Photo by Tim Nwachukwu/Getty Images) /
The 49ers simply couldn't overcome brutal injuries and questionable penalties against the Eagles in the NFC Championship game.
The San Francisco 49ers' 2022 season is over.
It should have been over a long, long time ago back when the Niners were scuffling to muster much of an offense. And it certainly should have been over back in Week 13 when San Francisco lost quarterback Jimmy Garoppolo to a season-ending foot injury.
Instead, the 49ers' season came to a close in the NFC Championship game for the second consecutive year in a row.
Perhaps that's a miracle the Niners made it that far with rookie quarterback Brock Purdy under center thereafter.
But, alas, the year is over after San Francisco fell short against the Philadelphia Eagles in the NFC Championship game by a score of 31-7.
There are plenty of reasons why the 49ers fell short. Perhaps it's the early injury suffered by Purdy, which resulted in him having to exit after not being able to throw a ball. It's hard to do so when an elbow is taken out, resulting in little feeling in the hand.
Perhaps the reason why that happened, was the Niners placing tight end Tyler Kroft in a blocking position on Eagles pass-rusher Haason Reddick, who strip-sacked Purdy, wasn't a good idea.
Perhaps San Francisco's No. 4 quarterback on the season, Josh Johnson, is a fourth-string quarterback who was only onboarded late when Purdy was named the starter.
And even Johnson went down with a concussion. Brutal.
Brock Purdy injury, Eagles' non-challenged catch in Q1 doomed 49ers
Before Purdy exited, the 49ers surrendered a pretty exceptional catch by Eagles wide receiver Devonte Smith that ultimately led to Philly's opening-score touchdown:
https://twitter.com/NFL/status/1619791659923013632
Except it wasn't a catch. Subsequent replay on that 4th-and-3 call showed that Smith never controlled the ball when he went to the ground, and it should have been ruled incomplete.
Head coach Kyle Shanahan didn't challenge the play, though, and Philadelphia hurried up to get a subsequent snap off.
Purdy was injured on the subsequent drive, too, and it sure seemed as if the Niners' efforts were all but derailed thereafter.
Things got worse, though.
49ers doomed by penalties (or by bad officiating)
San Francisco might have a bone to pick with the league's officiating, which seemed to call the game almost entirely in favor of Philadelphia.
The 49ers were flagged 11 times for 81 yards, while Philly was flagged four times for 34 yards. And some of the calls were awfully ticky-tack, including an incorrect pass-interference call against defensive back Jimmie Ward. Perhaps it should have been a defensive hold, but even that would have been slight.
And three such penalties on one drive led to an Eagles touchdown, and it also led to some notable criticism from NBC Sports Bay Area's Matt Maiocco:
Niners fans are likely to agree, but that's not going to change the outcome. And San Francisco certainly committed plenty of stupid penalties without allowing the officials to dictate the result.
That'll be something to haunt the 49ers all offseason, especially if one thinks this year's team was the best Shanahan has had since taking over as head coach.
Heartbreaking. But it had to end somehow.