Christian McCaffrey does it all in 49ers' much-needed win vs. Rams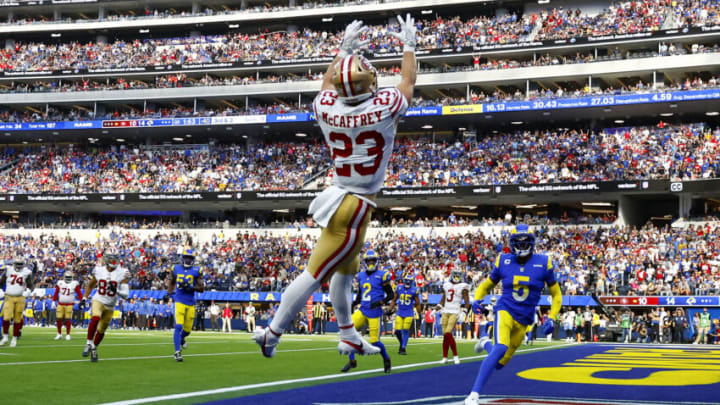 Christian McCaffrey #23 of the San Francisco 49ers (Photo by Ronald Martinez/Getty Images) /
The 49ers desperately needed a win over the Rams, and Christian McCaffrey made sure to be the all-purpose weapon to ensure that win would happen.
Once again, the San Francisco 49ers squared off against the Los Angeles Rams in a get-right situation following head coach Kyle Shanahan's team being in a funk.
In Week 8, the Niners were able to continue that trend of regular-season wins, now having eight in a row after sweeping the season series for the fourth time in as many years.
San Francisco is now 4-4 following its 31-14 win against head coach Sean McVay and Co., marking the end of its two-game losing streak and an all-too-important three victories against NFC West teams thus far.
Yet the game followed an entirely different path compared to what took place back in Week 4 when these two teams face off.
The 49ers' pass rush was largely anemic in Week 8 after recording seven sacks during the first of this two-game series, picking up just two this time around. And it was LA's offense that made the Niners defense look permeable for the first two quarters of the game, too, showing just how different a game could play out despite the rosters being almost identical to what they were mere weeks ago.
Another difference, though, is head coach Kyle Shanahan's squad actually turned things around in the second half instead of falling apart after halftime, which has been the case in recent weeks.
Christian McCaffrey does it all in 49ers win/loss vs. Rams
San Francisco was without one of its most important weapons on Sunday, All-Pro wide receiver Deebo Samuel, who joined a pretty notable list of Week 8 inactives who were out with injuries.
Yet the 49ers' other Deebo-like player, the versatile running back Christian McCaffrey, was tasked with picking up the slack.
And that's precisely what McCaffrey did.
McCaffrey didn't just add 94 yards on the ground on 18 carries, nor did he post 55 yards on eight receptions, the All-Pro also threw a touchdown pass to wide receiver Brandon Aiyuk:
McCaffrey had the touchdown trifecta, the above one passing, another receiving grab off the hand of quarterback Jimmy Garoppolo and then a rushing score early in the fourth quarter.
Yes, the Niners have to be thrilled with their blockbuster trade for the versatile weapon.
49ers get efficient offense from Jimmy Garoppolo, others
Garoppolo was effective enough on Sunday, although there were his occasional "bonehead" moments, including a couple of dropped would-be interceptions by Rams cornerback Jalen Ramsey.
And it wasn't exactly the best pass-protecting game from right tackle Mike McGlinchey either, which led to Garoppolo being under duress frequently from Los Angeles' two best pass-rushers, Aaron Donald and Leonard Floyd.
That said, Garoppolo finished the day going 21-of-25 for 235 yards, two touchdowns against zero interceptions, all for a passer rating of 132.5.
San Francisco would take that kind of effort from Garoppolo, particularly if he neither turns the ball over nor puts his offense at risk of doing so. And Aiyuk helped make up for Samuel's absence by leading the team with 81 yards on six catches, while tight end George Kittle contributed with what was effectively the game-sealing touchdown late in the fourth quarter.
49ers still have clean-up work to do, but beating Rams helps
The 49ers did a few things on Sunday they haven't done well for much of the season, starting off with a second-half comeback that included 17 unanswered points between the third and fourth quarters.
That's a good development, yet the Niners still have some issues that need addressing.
True, the defense has been banged up, and it also missed linebacker Dre Greenlaw for this NFC West bout. But, after such a strong start prior to Week 6, San Francisco has been awfully suspect defending against third downs, and the Rams took advantage of this, particularly early, by going 8-of-13 on third-down plays.
Read More: 49ers vs. Rams: 3 things to look forward to in Week 8
Los Angeles also used plenty of screens to take advantage of an aggressive 49ers pass rush, not unlike what the Kansas City Chiefs did successfully in Week 7, so defensive coordinator DeMeco Ryans might have to figure out how to guard against that a bit more after seeing screens a lot in back-to-back weeks.
That might have been a major reason why the pass rush struggled to get home on quarterback Matthew Stafford.
Still, the Niners managed to hold the Rams to 223 net yards and an average of 4.0 yards per play, and the final Los Angeles point total of 14 is a win in itself.
Now, San Francisco heads into the bye week with a bit of positive momentum in its favor.