10 players who won't be on 49ers 53-man roster come Week 1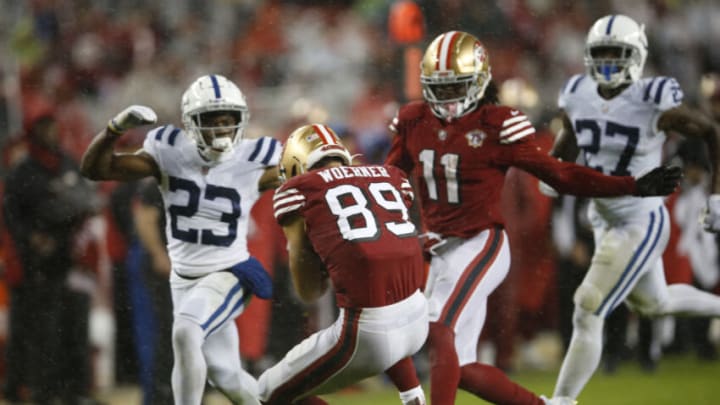 Charlie Woerner #89 of the San Francisco 49ers (Photo by Michael Zagaris/San Francisco 49ers/Getty Images) /
The 49ers face some awfully tough decisions regarding their 53 man roster entering 2022, and these 10 players may be shocking cuts.
In an ideal world, NFL teams would love to adopt the NCAA model of having an insane amount of players on a gameday roster.
For the pro-level rule novices out there, NFL teams are only allowed a maximum roster of 53 players during the regular season. However, teams can carry up to 90 players on an active offseason roster, meaning the subsequent weeks of offseason workouts, training camp and the preseason will provide the necessary "whittle-down" time to see which of those stand to survive roster cuts ahead of Week 1.
Needless to say, players on the fringes of the roster and on the bubble will anxiously await that particular date.
The San Francisco 49ers are no strangers to making tough decisions, and this will be the case again entering 2022. Especially with a playoff-caliber roster already in the folds.
As for those likely on the outside and looking in, here are 10 players who probably aren't going to call the Niners their own by the time the regular season rolls around.
No. 10: 49ers cornerback Deommodore Lenoir
A year ago this time, then-rookie cornerback Deommodore Lenoir appeared as if he'd be another one of those late-round NFL Draft gems San Francisco always seems to find. He was impressive during rookie minicamp, then translated that over into a solid training camp and preseason.
However, Lenoir fell out of favor as the year drew along, and he ended up being relegated to the back end of the depth chart, even serving as a weekly inactive as the 49ers made their way into the playoffs despite notable shortcomings at cornerback.
Having appeared in 13 games last season regardless, the former fifth-round pick out of Oregon is likely to be phased out by some of the Niners' recent offseason additions at the position, namely Charvarius Ward and another new-face rookie, Samuel Womack, while the re-signing of veteran corner Jason Verrett only serves to push Lenoir even further down the depth chart.
Assuming San Francisco keeps no more than six cornerbacks on its 53-man roster, Lenoir will face an uphill battle in camp to earn one of those final three spots, and it's hard to see him beating out other depth members like Emmanuel Moseley, Dontae Johnson and Ambry Thomas.