Jimmy Garoppolo was good enough vs. Packers to extend 49ers season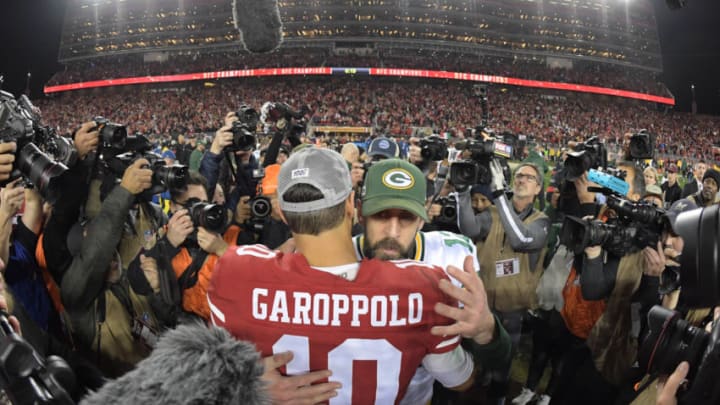 Jan 19, 2020; Santa Clara, California, USA; San Francisco 49ers quarterback Jimmy Garoppolo (10) hugs Green Bay Packers quarterback Aaron Rodgers (12) after the NFC Championship Game at Levi's Stadium. Mandatory Credit: Kirby Lee-USA TODAY Sports /
Jimmy Garoppolo played well enough to help the 49ers outlast the Green Bay Packers to continue their playoff run. Next up, is the NFC Championship Game.
In a game that would be predicated on the San Francisco 49ers' defense and special teams, Jimmy Garoppolo did enough to help the team win the game. The reality of this game is that the team won despite the volatile play of Garoppolo. He started the game missing on his first four passing attempts. Sure, his receivers dropped two of his passes but Jimmy seemed to not be as accurate as he missed on other opportunities.
The whole offense started the game completely out of sorts and for the first time this season, looked to be getting physically dominated at the line of scrimmage. Luckily, the defense settled in and made the necessary plays for the offense to take the game over. Unfortunately, the team was not able to get much of anything going on offense early on.
However, one thing is clear – Jimmy is a key leader. Jimmy plays with confidence and grit which feeds into the "never say die" 49ers. Which was what was the difference in the game. The 49ers outlasted the Green Bay Packers by playing tremendous defense, killer special teams and just enough offensive plays to win the game.
Jimmy Garoppolo benefited from the elite play from both George Kittle and Deebo Samuel. Kittle made ridiculous one-handed plays leading to a trail of littered defenders as he rumbled past arm tackles. Deebo, the dual-threat weapon, gashed the Packers and repeatedly torpedoed defenders to the ground.
At the end of the game, Jimmy Garoppolo went 11-of-19 for 131 yards and one interception. That interception was particularly costly as the 49ers were about to score on a long drive only to have one of their few successful drives end in such a painful way.
Still, the team had several moments where Garoppolo had to be counted on to make the play. While the plays were not flashy by any means, they continued drives that ultimately put up enough points to win the game. In legendary fashion, the game was finally won on the foot of Robbie Gould who had Ice-Gold in his veins as he made the winning FG in the snow and wind.
Next up is the NFC Championship Game where the team will either face the Los Angeles Rams whom they have beat twice this season already or the Tom-Brady-led Tampa Bay Buccaneers. Both teams present challenges to the 49ers and the team will need the best play to come out on top. This includes Jimmy Garoppolo making the necessary plays to be the reason this team wins.