49ers roster 2021: Isaiah Williams' dark-horse shot to make the cut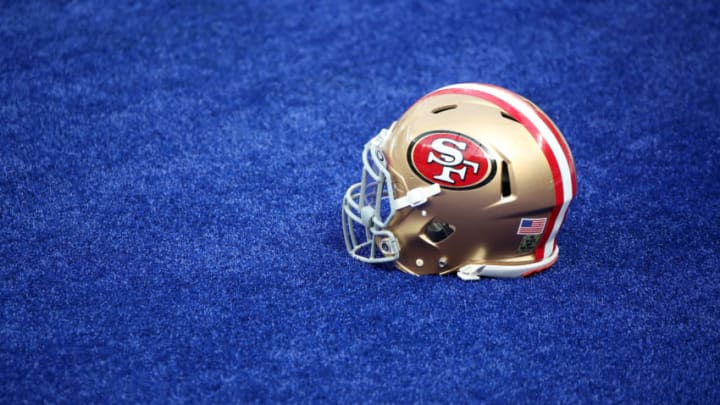 A general view of a San Francisco 49ers helmet (Photo by Katelyn Mulcahy/Getty Images) /
The 49ers likely don't have enough room for reserve offensive lineman Isaiah Williams, but a strong training camp could change the team's mind.
The San Francisco 49ers' offensive line might be the toughest of the team's units to crack entering 2021, especially for those fringe and long-shot players who might otherwise have an outsider's chance at weaker or thinner positions.
Unfortunately, journeyman offensive lineman Isaiah Williams doesn't have that luxury.
In the wake of the Niners signing veteran center Alex Mack and then using two 2021 NFL Draft picks on linemen, Aaron Banks in Round 2 and Jaylon Moore in Round 5, fringe players like Williams just saw their chances of making the regular-season 53-man roster go from slim to almost impossible.
Williams, who broke into the league as an undrafted free-agent signing of the Washington Football Team out of Akron in 2016, has bounced around the NFL quite a bit since that season, yet he's never appeared in a regular-season game. San Francisco, which elevated him from the practice squad a year ago, didn't put him on the field.
Maybe 2021 changes all that.
Why Isaiah Williams makes headway with 49ers in 2021
It has to be tough for a player to spend a good chunk of time on NFL rosters and practice squads but to never see a regular-season game.
At 28 years old, the 6-foot-3 and 306-pound Williams isn't necessarily going to develop much further than where his impact status is right now. Yet the 49ers have a pretty fluid situation with their backup interior lineman, and it's possible Williams winds up impressing enough to go from likely a third-string contributor in training camp to the back end of the 53-man roster.
Even though the Niners dealt with more injuries than they'd like to admit last year, a Williams call-up does indicate they appreciate him enough to that extent.
Why Isaiah Williams continues to miss NFL action in 2021
What's that saying about bridesmaids and never being a bride?
It almost feels like that's the case with Williams, who has been in the NFL long enough to at least warrant a kneel-down snap from someone to get into the stat sheet somehow.
That probably won't happen with San Francisco, though, who'll be battling it out with other third-string players like Jake Brendel, Alfredo Gutierrez, Corbin Kaufusi and Dakoda Shepley.
Williams might have an edge over project players like Gutierrez and Kaufusi.
But that doesn't necessarily guarantee much for someone who's going to be a third-string contributor, at best.
Chances of making 49ers' 53-man roster
Williams is a dark-horse possibility, yes, and the situation at guard is a bit more fluid than at tackle or center.
A veteran like Tom Compton could potentially serve as the 49ers' final interior lineman on the regular-season roster, even if that means he's a weekly inactive aside from a would-be injury attrition problem happening again.
The Niners don't want that to happen, of course. But if Williams was able to outperform someone like Compton while keeping the other C-team interior linemen at bay during camp and the preseason, there's a chance the perennial practice squad player winds up carving out a slightly bigger role for himself with San Francisco in 2021.
A chance, though. Not much more.