SF 49ers: Kyle Shanahan should promote Mike LaFleur to offensive coordinator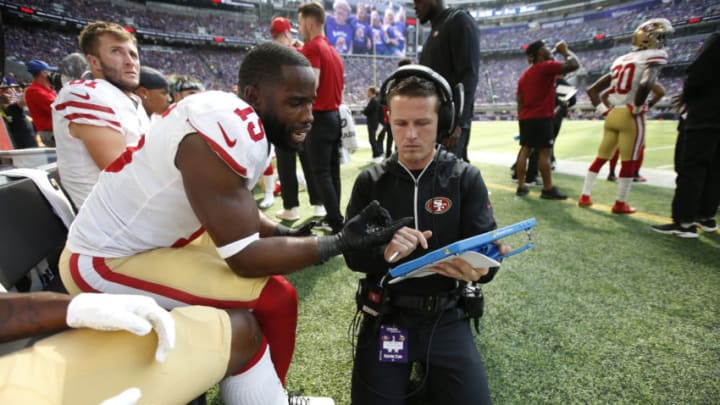 Pierre Garcon #15 and Wide Receivers/Passing Game Specialist Mike LaFleur of the San Francisco 49ers (Photo by Michael Zagaris/San Francisco 49ers/Getty Images) /
SF 49ers head coach Kyle Shanahan could use some help, and promoting Mike LaFleur to offensive coordinator in 2021 could do it.
SF 49ers head coach Kyle Shanahan needs to strongly consider bumping up his current passing game coordinator, Mike LaFleur, to offensive coordinator in 2021.
This, for a number of key reasons.
Currently, as Niners fans know all too well, Shanahan is serving as both the team's head coach and offensive coordinator. On game day, Shanahan is the one dialing up his game plan and calling plays for the offense, all the while trying to manage the arduous job of being the head coach.
The end-all results over three-plus years tell a mixed-bag story. So far in his coaching career, Shanahan is 27-31-0 during the regular season with the 20th-, 21st-, second- and 20th-ranked offenses from 2017 through 2020, respectively. Granted, the team's early rebuild during those first two years, combined with a slew of injuries this season, skew the numbers.
But it doesn't change the notion Shanahan could use some help.
There's another reason why promoting LaFleur to an offensive coordinator role would make a lot of sense, too.
In early 2019, Shanahan blocked the Green Bay Packers' attempt to lure LaFleur away from San Francisco to become an offensive coordinator under then-recently hired Packers head coach Matt LaFleur, Mike's brother.
"I was never tempted," Shanahan told reporters of the decision. "It was very easy, and I looked forward to saying 'no' very quickly. As quick as I can."
And it wasn't just to ensure Matt LeFleur didn't get his way either.
"Mike's my coordinator, and he does a hell of a job," Shanahan added. "He's a really talented guy, and we put a lot of work in together. I feel very fortunate to have him this year, and I plan on staying that way until he gets a head coach job."
In addition to Mike LaFleur being blocked from landing Green Bay's offensive coordinator role, Shanahan also blocked the SF 49ers' run game coordinator, Mike McDaniel, from going to the Arizona Cardinals as an offensive coordinator there.
Sounds fine, right? Well, not exactly.
A new league rule went into effect last offseason, and it specified teams couldn't block their assistants from interviewing for coordinator jobs elsewhere. By the time the new rule went into place, nearly every squad out there had their offensive and defensive coordinators in place. Shanahan didn't have to worry about LaFleur or McDaniel going anywhere.
At least not yet.
SF 49ers making Mike LaFleur offensive coordinator makes sense
Matt LaFleur is probably happy with his current offensive coordinator in Green Bay, Nathaniel Hackett, especially with the Packers boasting a top-five offense.
Yet other offensive-struggling teams surely would be interested in Mike LaFleur's services in 2021.
Shanahan promoting LaFleur to an offensive coordinator role doesn't necessarily have to change much, if anything, perhaps only an increase in pay while taking at least some of the pressure off Shanahan during game planning and on game days. One could make the argument LaFleur is already doing those kinds of tasks anyway, and Shanahan could still carry plenty of influence in dialing up certain plays in various situations.
He'd still be the head coach after all, and it's always going to be his call if deemed fit.
Most importantly, however, Shanahan could take a chunk off his proverbial plate while ensuring a portion of his coaching staff remains intact, thereby maintaining as much coaching consistency as possible heading into 2021.