Can 49ers lineman Ross Reynolds make the cut in 2020?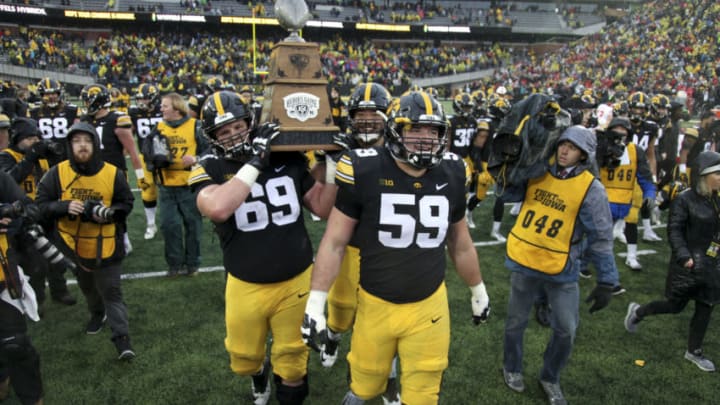 Offensive linemen Keegan Render #69 and Ross Reynolds #59 of the Iowa Hawkeyes (Photo by Matthew Holst/Getty Images) /
49ers then-rookie guard Ross Reynolds was a surprising upstart in 2019 but failed to make the 53-man roster that season. Is 2020 going to be different?
There were more than a few reports from San Francisco 49ers offseason workouts and training camp in 2019 suggesting then-rookie offensive guard Ross Reynolds would be a player to watch and was excelling enough to be a dark-horse candidate to make the team's 53-man roster.
Yet the former Iowa undrafted free agent wasn't able to pull off the upset, eventually being waived and finding his way onto the Niners' practice squad for his first year in the NFL.
Reynolds, who'll turn 25 years old this season, finds himself in a similar situation last year where he'll have to do some notable things in order to outperform some of his competition along a crowded-yet-unproven depth chart for the offensive line. Known for his run blocking, Reynolds will have to show some serious improvement in one area of his game which was lacking at the college level: pass protection.
San Francisco has a knack for offensive performers out of Iowa, though, which bodes well for the 6-foot-4, 300-pound lineman.
And if Reynolds puts all the pieces together this training camp, he could end up filling a vital depth role for the 49ers this season and beyond.
Why Ross Reynolds improves with 49ers in 2020
As noted, Reynolds' collegiate run-blocking efforts were solid enough, being ranked by Pro Football Focus as the 11th best interior lineman for this category in the 2019 NFL Draft class.
It's important to note head coach Kyle Shanahan's offense is still a run-first one, giving Reynolds a leg up over some of the other depth linemen whose run-support attributes aren't quite as prolific.
This is particularly identifiable in Shanahan's zone concepts, which Reynolds excelled in back at Iowa. That facet alone boosts Reynolds' stock value.
Where the improvement will need to come from, though, is in pass protection. As long as Reynolds honed those abilities during his practice squad time last year and in training camp this season, he'll have an outsider's chance to make the 53-man roster.
Why Ross Reynolds regresses with 49ers in 2020
Over Reynolds' collegiate tenure, he never flashed any serious pass-protection improvement, at least not to warrant any suggestions this facet of his game will improve noticeably at the pro level.
Guard is generally considered the weakest of San Francisco's O-line spots, yet the pending starters, Laken Tomlinson and Daniel Brunskill, are already significantly better than Reynolds projects to be in this area.
Getting onto the roster solely based on his run-blocking abilities is by no means a guarantee for Reynolds this season.
Chances of making 49ers' 53-man roster
Brunskill is one of Reynolds' competitors, although the Niners have far loftier hopes for the former than they do the latter. That puts Reynolds in direct competition with other members of the O-line depth chart, namely Tom Compton, Jake Brendel, Ray Smith and the rookie, Colton McKivitz, among others.
Out of that bunch, Compton and McKivitz are the favorites to earn a roster spot, so it's pretty easy to surmise Reynolds will have to outperform at least one of those two names to earn consideration.
Even if he does, there's no guarantee he'll be named to the regular-season squad, putting him squarely on the weaker side of the roster bubble.
Yet the new league rules on roster additions for game day, which include an added two spots as long as one of them is an offensive lineman, could mean Reynolds gets some occasional promotions from the practice squad during the regular season. Keep an eye on that.
At the same time, though, the absence of a preseason could hinder Reynolds' chances to show off his value during in-game situations. That could hurt matters, too.
Either way, 2020 is going to be a vital year in determining whether or not Reynolds has a serious future in the NFL after starting off with considerable promise a year ago at this time.