3 offensive free agents 49ers should target in 2020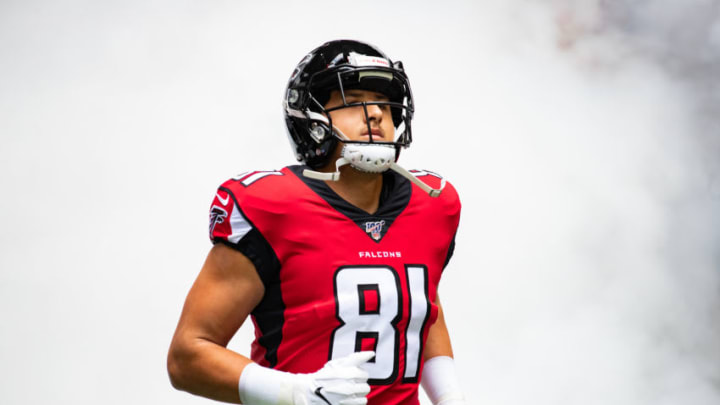 ATLANTA, GA - OCTOBER 20: Austin Hooper #81 of the Atlanta Falcons takes the field prior to a game against the Los Angeles Rams at Mercedes-Benz Stadium on October 20, 2019 in Atlanta, Georgia. (Photo by Carmen Mandato/Getty Images) /
With NFL free agency coming up, the San Francisco 49ers need to find a way to bolster their offense by looking at these three offensive free agents.
With free agency coming up around the corner on March 18th, don't expect the San Francisco 49ers to make a lot of big splashes this year.
Only having approximately $18 million in cap space, according to Spotrac, the team is mainly focused on keeping their own players with expiring contracts coming up. Players like defensive end Arik Armstead, defensive tackle DeForest Buckner, defensive back Jimmie Ward, tight end George Kittle and wide receiver Emmanuel Sanders. It is possible to keep everyone but it's not realistic. The most likely candidates to get a new deal are Kittle, Buckner, and Armstead.
There are going to have to be some potential cuts to free up some cap space in the upcoming week so that these deals can get it done and hopefully look forward to other free agents to improve the roster.
Here are three potential offensive free agents that the 49ers should target.
No. 1: Robby Anderson, Wide Receiver (New York Jets)
The New York Jets wide receiver, Robby Anderson, has been vastly underutilized during his time with his team. In the previous season, Anderson recorded 779 receiving yards and five touchdowns while serving as the No. 1 wideout. These are good numbers for a receiver, but Anderson deserves to go somewhere where he can be utilized more and get more opportunities.
His best season was in 2017 when he accumulated 941 receiving yards and seven touchdowns. He has only missed two games in his four-year tenure with the Jets and can be a good deep threat in the Kyle Shanahan offense, while there is a possibility wide receiver Marquise Goodwin could be traded before the free agency period begins.
There have been some concerns Anderson won't be able to stay out of trouble if he does get signed somewhere, since being arrested a couple of times two years ago. The culture Shanahan and general manager John Lynch have established in the locker room is amazing, and I'm sure the players would be willing to help Anderson stay out of trouble if something does try to stir back up again.
He is only 26 years old, so there is always room for improvement.