2020 NFL Combine: 3 players no longer in 49ers draft range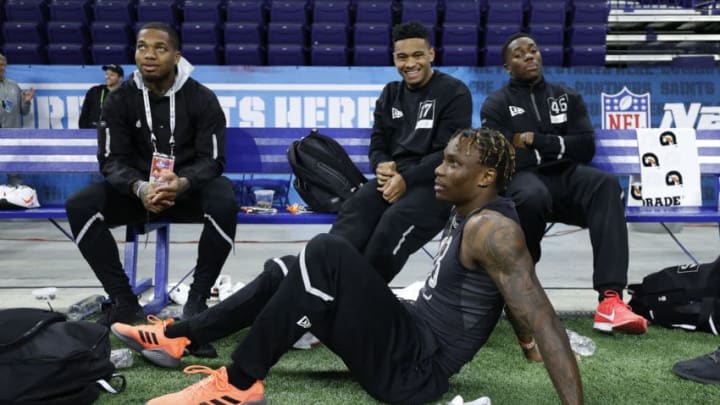 INDIANAPOLIS, IN - FEBRUARY 27: Wide receiver Henry Ruggs III of Alabama talks to quarterback Tua Tagovailoa of Alabama and wide receiver Lynn Bowden Jr. of Kentucky during the NFL Scouting Combine at Lucas Oil Stadium on February 27, 2020 in Indianapolis, Indiana. (Photo by Joe Robbins/Getty Images) /
Wide receiver Henry Ruggs III and quarterback Tua Tagovailoa (Photo by Joe Robbins/Getty Images) /
With the 2020 NFL Combine in the books, the San Francisco 49ers will no longer have a chance at some top-level talent in the upcoming draft this April.
If things were solely up to the San Francisco 49ers, some of their top targets in the 2020 NFL Draft would have had horrible performances at the NFL Scouting Combine.
Why? Well, it would mean those players would ultimately have a better chance of falling to the Niners in April's draft. And considering San Francisco owns the No. 31 overall pick, hoping some clear-cut Round 1 talent slips a bit might be the only way general manager John Lynch and Co. get their hands on a player they otherwise may have had no shot at.
Nevertheless, some prospects all but ensured the 49ers won't have a shot at landing them in next month's draft.
Especially considering the Niners, armed with only the aforementioned selection between Rounds 1 and 4, don't have enough ammunition to trade up earlier in the first round unless they want to start dipping into next year's stockpile of picks and/or send off some on-roster talent.
Neither scenario seems likely.
There were plenty of standouts at Lucas Oil Stadium during the NFL Combine. Some pushed their way out of day-three contention and into the realm of Rounds 2 or 3.
Others, meanwhile, solidified themselves as bona fide first-round selections, perhaps even going in the top 10 now.
Those are the players who all but ensured San Francisco wouldn't have a chance at drafting them. So, with a bit of a sigh of "oh well" and "what could have been," Niner Noise looks at three prospects who would have looked great in a 49ers uniform, only to have pushed themselves far away from where the Niners will be able to select.