5 early candidates for 49ers first pick in 2020 NFL Draft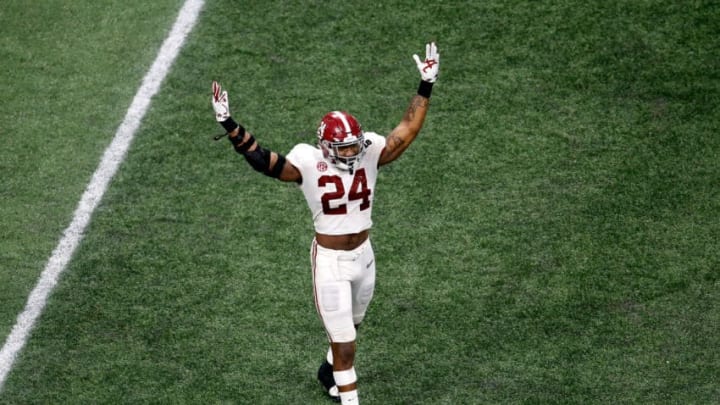 ATLANTA, GA - JANUARY 08: Terrell Lewis #24 of the Alabama Crimson Tide celebrates beating the Georgia Bulldogs in overtime and winning the CFP National Championship presented by AT&T at Mercedes-Benz Stadium on January 8, 2018 in Atlanta, Georgia. Alabama won 26-23. (Photo by Mike Zarrilli/Getty Images) /
Laviska Shenault, Jr #2 of the Colorado Buffaloes. (Photo by Matthew Stockman/Getty Images) /
Who is he?
Heading into the 2020 NFL Draft, wide receiver Laviska Shenault Jr. out of Colorado ranks 30th overall and fifth in his position. Think, Deebo Samuel, 2.0. Shenault is not a typical X or Z receiver; instead, he can line up and make plays from anywhere, even as a running back.
Some of his stats with the CU Buffaloes include:
31 games played, 16 starts
145 receptions for 1900 yards
11 touchdowns
108 points scored
Shenault is not precisely the best route runner, but he has the size, speed, toughness and athleticism to create separation and gain valuable yards after catch (YAC) and run-block. He's very challenging to cover.
According to Mike Tagliere of FantasyPros.com:
"One thing [Shenault] does very well is vary his speeds to manipulate defenders down the field."
This Shenault guy sounds a lot like Samuel, why would the 49ers draft another guy like that?
That's precisely why!
Why it makes sense?
Before we get too excited here, we must recognize there is a chance Shenault could be off the board by the time the Niners pick at 31. The NFL is a copy-cat league. After seeing Samuel's success last year, it's possible wideouts like Shenault are scooped up by coordinators looking to replicate and capitalize on the running back-wide receiver hybrid.
If Shenault is available, then do not be surprised to see the 49ers pull the trigger on the top-five receiver. If the Niners select Shenault at No. 31, they would have two old-fashioned wing backs on the roster who will give defensive players fits for days.
According to NFL.com analyst Bucky Brooks:
"The wing back has the potential to deliver impact plays as a runner-receiver on the perimeter on a variety of end arounds, reverses and traditional routes."
Imagine seeing any of the heavy personnel groups so often deployed by the 49ers successfully last season, only this time comprised of a mix of full back Kyle Juszczyk and either running backs Jerrick McKinnon or Raheem Mostert with tight end George Kittle, coupled with Samuel and Shenault.
There are 120 possible combinations for head coach Kyle Shanahan to scheme up using that personnel core. The most intriguing combos could involve:
four electric "running backs" and an elite tight end
three brutish receivers and two speedster backs
five exceptional pass-catchers who could register massive YAC
four run-blockers paving the road for one speedy, shifty, running back
The list goes on, but holy smokes!  Check out his highlight reel:
That's why taking Shenault at No. 31 makes too much sense. If he's there, it's a no-brainer.
But what do we know? When all is said and done, there are several ways this draft can play out: 11th-hour deals, trades or surprising moves at any given moment are possible.
With the 31st overall pick, the 49ers can select candidates from the 2020 NFL Draft who are currently ranked as high as top three or as low as the top six in their respective position.
No matter what the 49ers choose, the future looks golden.