3 reasons why 49ers present problems for Chiefs in Super Bowl 54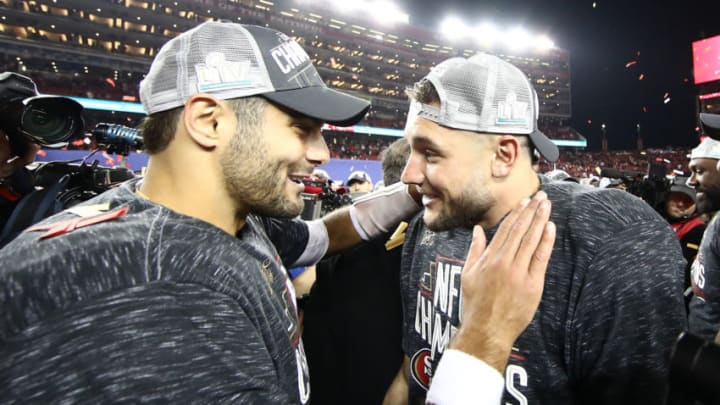 Jimmy Garoppolo #10 and Nick Bosa #97 of the San Francisco 49ers. (Photo by Ezra Shaw/Getty Images) /
The San Francisco 49ers offensive line. (Photo by Ezra Shaw/Getty Images) /
No. 3: The 49ers are the league's second-ranked offense and it's not by accident. They have one of the best offensive lines, along with some great blocking by their tight ends.
There's a lot to be said about the 49ers offense. It's dynamic, confusing and fun to watch… if you're not the opposing defense that is. But what makes this offense so complete? Well it starts with the guys up front who hardly ever get any attention: the offensive line.
Lead by six-time Pro Bowler offensive tackle Joe Staley, the 49ers almost always win the battle in the trenches. Despite allowing 36 sacks on quarterback Jimmy Garoppolo, the offensive line has been key in getting the 49ers to the Super Bowl.
Over the course of the season, the line took some hits on the injury front. Most notably Staley missed six games early in the year and they also lost center Weston Richburg in the shootout victory against the New Orleans Saints.
However, the offense adopted the "next-man-up" motto and never really missed a beat. Of course there was criticism about Staley possibly losing a step. There was also discussions about how rookie center Ben Garland was filling in for Richburg in the Saints game. Obviously a lot of this is just noise. It's fans and media reacting to what they see. So for both situations, the arguments were valid. But this is the NFL. Backups and guys coming off injuries know what it takes to stay in top form.
Let's take a look back at running back Raheem Mostert's third touchdown in the NFC Championship game:
https://twitter.com/49ers/status/1219062231268114436
It's a fairly simple running play. The offensive line pushes the Green Bay defensive line to the right, to create a hole for Mostert. On the top of your screen you'll notice tight end George Kittle, wide receiver Kendrick Bourne and Staley get in the way of the Packers defenders. By the time the Packers were able to touch Mostert he was already at full speed towards the end-zone.
What also makes the offensive line is they are completely in unison with each other at the snap. You can see on this touchdown late in the third quarter, just how perfect and precise they are getting off the ball.
It might seem like an obvious observation, but it's the little details in their game that make them the best.