San Francisco 49ers: A realistic look at tanking the rest of 2018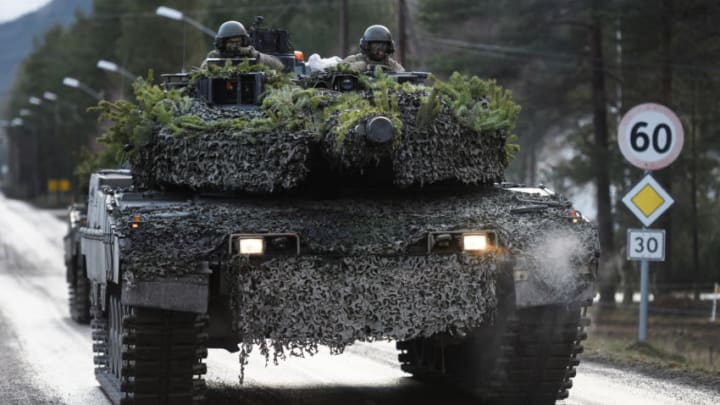 ELVAL, NORWAY - NOVEMBER 03: A Polish Army tank crew drive a Leopard II tank through the residential streets, during the live exercise on November 3, 2018 in Elval, Norway. Over 40,000 participants from 31 nations are taking part in the NATO "Trident Juncture" exercise to test inter-operability between forces, and is the largest exercise of its kind to be held in Norway since the 1980s. (Photo by Leon Neal/Getty Images) /
It's feasible, perhaps likely the San Francisco 49ers don't win another game for the rest of the 2018 season. They'll never admit it, but here's how the team can do it.
Full disclaimer, I don't want the San Francisco 49ers to lose games over the rest of 2018. I'd love to see wins over NFC West division rivals like the Seattle Seahawks or Los Angeles Rams.
Remember that five-game win streak to close out 2017? Well, that was a lost year. But that streak felt pretty good, didn't it.
At 2-9 heading into their Week 13 matchup against those Seahawks, the Niners' 2018 campaign is about as dreadful as last year's before quarterback Jimmy Garoppolo came into the picture. With Garoppolo landing on injured reserve with an ACL tear back in Week 3, this season has become awash, erasing any lofty expectations anyone might have had.
So, the team should tank to get a better pick in the 2019 NFL Draft, right?
Suggesting any team should tank is a fan-based argument. You might see it a bit in the NBA, which is why they enact a draft lottery. In the NFL, though, it's a lot different. Perhaps the only recent example of a football team tanking would have been the 2011 Indianapolis Colts, who appeared to do everything in their power to land then-Stanford quarterback Andrew Luck the following year.
Without getting too deep in the subject, NFL teams won't tank because coaches' jobs are on the line. So are those of the players too, contracts especially. Deliberate tanking makes everyone look bad regardless of the context, and that doesn't bode well for anyone involved.
But the 49ers should still lose games, right?
In fairness, they might not have difficulty in achieving this lowly feat. By looking at their remaining schedule, it's a real possibility the Niners already have all the wins they'll get in 2018:
Provided by Pro-Football-Reference.com: View Original Table
Generated 11/27/2018.
Seattle has proven to be a bit feistier than anticipated this season, certainly outclassing anything San Francisco has to offer. Meanwhile, both the Denver Broncos and Chicago Bears' defenses have played well this season.
And with the New Orleans Saints riding a hot streak, the Rams may not be in a position to rest their starters in Week 17, as was the case that same week a year ago.
Head coach Kyle Shanahan and Co. will want to win as many games as possible, but that might already be out of reach with the options he has available. But there's a way he can go about losing without actively trying to lose.
It might already be on display.
Shanahan already hinted at lineup changes for the rest of the season, putting younger players in over established starters in what is essentially becoming an audition for roles in 2019. Perhaps no better example of this exists than with what we've seen at quarterback between second-year pros C.J. Beathard and Nick Mullens.
SANTA CLARA, CA – NOVEMBER 01: Head coach Kyle Shanahan speaks with Nick Mullens #4 of the San Francisco 49ers prior to their game against the Oakland Raiders at Levi's Stadium on November 1, 2018 in Santa Clara, California. (Photo by Daniel Shirey/Getty Images) /
Mullens, who is already slated to start against the Seahawks in Week 13, hasn't exactly looked sharp against substandard competition, the New York Giants and Tampa Bay Buccaneers, the last two weeks. Yet the 49ers seem to know what they have in Beathard, who looks only a little further along than where he was a year ago at this time.
You can debate which quarterback has the higher upside all you want. But the decision to keep riding Mullens stands in stark contrast to Shanahan's Oct. 21 comments stating Beathard was "the best quarterback we have in our building."
Can you connect the dots?
By starting players who essentially lost position battles in training camp and the preseason, yet still possess a yet-to-be-determined upside, Shanahan is accomplishing two things: using these remaining games to evaluate what he has at the deeper parts of the roster, and also giving his team a lower possibility of winning each week.
It's a good way to tank, even if Shanahan would never, ever admit it.
And if the reward for these kinds of efforts winds up being the No. 1 overall pick in 2019's NFL Draft — the spot where the Niners currently sit — it might wind up being pretty darn beneficial.