Fantasy football: Fun way to use the World Cup to determine your 2018 draft order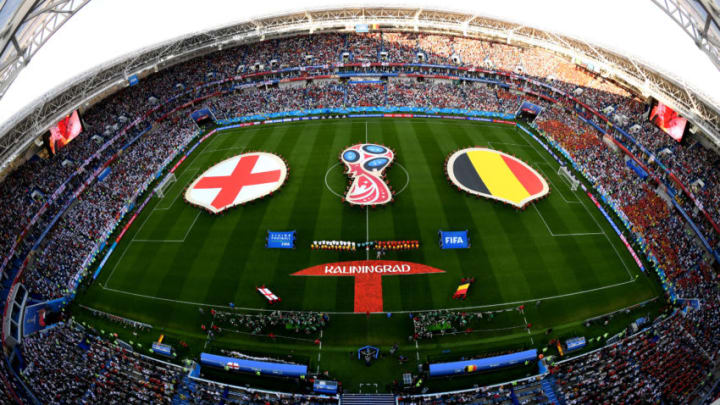 KALININGRAD, RUSSIA - JUNE 28: General view inside the stadium as England and Belgium line up prior to the 2018 FIFA World Cup Russia group G match between England and Belgium at Kaliningrad Stadium on June 28, 2018 in Kaliningrad, Russia. (Photo by Matthias Hangst/Getty Images) /
With the 2018 World Cup under way, is your home country already eliminated?  Well, here is a fun way to get in on the madness while also getting your fantasy football season started a little bit early.
Action-packed. Heart-stopping. Madness — words one would usually use to describe how their fantasy football season goes.
But with the season still a couple months away, the action is off in the horizon and all that is left to do is mock drafts and determine your league's fantasy draft order.
The advantage of doing this so early is that it gives teams a chance to do mock drafts in their final draft position. It also can be fun, depending on how it is decided.
Look no further than fútbol (not football) and the 2018 World Cup to determine it. Nearly all 40-plus games have been absolutely insane to watch.
It seems every game comes down to the wire and the 95th minute. Good teams with world-class talent are losing, and underdogs are finding ways to win it. Germany, the champion of the 2014 World Cup, lost to South Korea 2-0 on Wednesday, eliminating them from the World Cup.
Just crazy. Almost improbable.
Unfortunately, my home squad, the United States, missed out on all this madness from the beginning. So it got me thinking, "How could I find a way to root for another country?"
After giving it some thought, here's some food for thought for you.
Instead of doing a boring, random selection out of a hat to decide your fantasy football league's draft order, try out this neat idea. Determine your draft order based on how the 16 teams in the knockout round finish in the World Cup.
The knockout round begins on Saturday, June 30, just a couple days from now! The final 16 are finally set:
Portugal, Uruguay, France, Argentina, Brazil, Mexico, Japan, Spain, Russia, Croatia, Denmark, Sweden, Switzerland, Colombia, Belgium and England are all still in the running.
KALININGRAD, RUSSIA – JUNE 28: Jamie Vardy of England is challenged by Dedryck Boyata of Belgium during the 2018 FIFA World Cup Russia group G match between England and Belgium at Kaliningrad Stadium on June 28, 2018 in Kaliningrad, Russia. (Photo by Ryan Pierse/Getty Images) /
For each fantasy owner, randomly select one of these countries. One way to do this is simply out of a hat.
The idea is simple.
The further your country goes in the tournament, the better draft choice you receive. If your team wins the World Cup or goes the furthest, you get first choice of draft position. This doesn't necessarily have to be the first pick in the draft. Runner up gets second choice, and so on.
This idea works for 16 teams and under. If you have a 10, 12, or 14 team league, randomly select from the top teams and allow players to switch or trade teams if they desire.
San Francisco 49ers /
San Francisco 49ers
It gets a little complicated if teams lose in the same round, but your league can decide that based on a number of different tiebreakers in order:
Goal differential
Number of goals scored
The team with the least amount of yellow/red cards.
Another option to determine a tiebreaker between two teams that lost in the same round is for both teams to receive the team they lost against. The tiebreaker is then decided by how far those new teams go in the tournament. If by all odds those new teams lose again in the same round, repeat the process again.
Or, perhaps, go old fashioned with a good ole game of rock, paper, scissor, shoot.
If you're antsy for your fantasy football season to begin and want to have something to root for in this year's World Cup, this is the perfect idea for you and your friends.
Sit back and enjoy the madness.  Because it is upon us. And you will be a part of it.
Belgium looks poised to make a deep run in the tournament after a fast start and never winning the World Cup, while Spain has a super easy path to the semifinals. But in this tournament, anything can happen.
Next: Fantasy football: 5 late-round sleepers you'll want in 2018
In my fantasy football league, I received the one-man wrecking crew that is Ronaldo and the Portuguese squad.  Portugal faces off against Suarez and Uruguay on Saturday to begin the knockout round.
"Oyé Ronaldo oyé!"