Why re-signing safety Eric Reid is the right move for the 49ers
After only one visit with the Cincinnati Bengals, free-agent safety Eric Reid still finds himself out of a job and it doesn't look like any other teams are calling. Reid should look to his former team and see re-signing with the San Francisco 49ers is the right move for both sides.
Free-agent safety Eric Reid is a productive player and a definite starter in the NFL. His versatility and athleticism have proven to be a huge asset to the San Francisco 49ers defense since he was selected 18th overall in the 2013 NFL Draft.
Reid would have had a career high in total tackles if not for the PCL injury that caused him to miss three games in 2017. Reid has a knack of finding the ball carrier and arrives with a violent attitude.
Not only did Reid play about as good as he ever has as a pro in 2017, he did it all during a contract year that saw 2017 seventh-round NFL Draft selection Adrian Colbert come in and play light years ahead of where he was drafted.
Colbert's play was unexpected, but it cast a small shadow over what Reid was doing. In the offseason, the 49ers coaching staff played with the thought of moving Reid to the linebacker position or what I like to call a "hybrid linebacker."
A hybrid linebacker isn't a linebacker or a safety, its a bit of both. A lot like how the Seattle Seahawks' Kam Chancellor plays in their defense.
Reid played a lot closer to the line of scrimmage than what he was used to, allowing him to be more of a force in the run game and intermediate passing game.
A role in which Reid didn't hesitate to accept. When asked about the new role by NBC Sports Bay Area and 49ers beat writer Matt Maiocco, he responded with:
I love it, being around the ball more, I anticipate making more tackles, hopefully making more plays. I feel like I was made for this position with my body type, being a bigger safety. I'm excited about this year.
Reid's total stats do not show the whole story of 2017. When the 49ers were in the midst of their five-game win streak to close out the season. Reid was arguably playing about as good as anyone else on the 49ers defense, averaging just under 5.5 tackles per game in that span.
According to Pro Football Focus, Reid closed out the season against the Los Angeles Rams as the 49ers' best rated player for the game.
He was playing with a violent nature we hadn't seen from him since he first entered the league. Reid finished the 2017 season with an above average 81.4 grade by Pro Football Focus (30th ranked safety overall).
Reid can still be an asset to the 49ers, and that is why they should consider resigning him.
However, it only makes sense for both sides if the price is right. While Reid can still be a solid contributor to the 49ers defense, he has to understand that he will not be paid as a premier defensive player.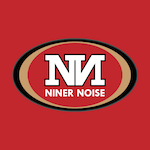 He is a serviceable starter and should expect to be paid as such. A short-term contract, along the lines of one or two years, is his best chance of signing on. One that he has admitted being open to accepting from the 49ers.
With the recent news of 49ers linebacker Reuben Foster being arrested and charged with domestic violence, it makes even more sense to bring back Reid. He has knowledge in the system and, while not directly filling in for Foster, can come in and contribute within the front seven without missing a beat.
To simply put it, Eric Reid is a good football player, the 49ers have nothing to lose and everything to gain by re-signing him. Reid is still playing at a high level and with more time in his new role can flourish and return back to his Pro Bowl level.
With the amount of cap space the 49ers have, the uncertainty of Foster's future and the lack of depth at the safety position, I don't see what advantage they gain by letting Reid go.
Eric Reid resigning with the 49ers is the best option for both sides and truly allows the team to put the best eleven guys out on the field.