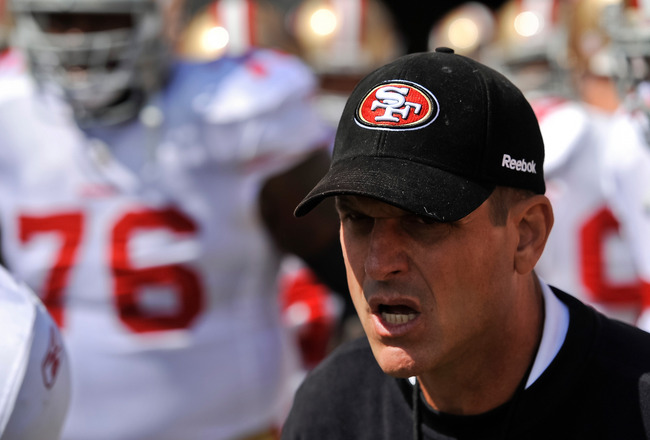 I've heard and read a lot about the term "trap game" whenever a team that has had great success this seasons such as our 49ers are discussed. The theory is that teams can get too comfortable or complacent when they get too used to winning and will allow a less formidable opponent to "trap" them into a loss they never should suffer.
Even Niner Noise's chief editor Eric Melendez subscribes to this theory as he predicted the rest of the 49ers remaining games. I'm not buying it and here's why, his name is Jim Harbaugh.
PAGE 2: WHY THE 49ERS WILL NOT LOSE THEIR FOCUS UNDER HARBAUGH

The 49ers have found something special with this group. There is a reason why Harbaugh took this job over staying at Stanford, going to his Alma matter Michigan or going elsewhere in the NFL like Miami or Denver, the reason is this team had winning personnel and just needed someone to make it all work.
The core players on this team are as good as any in the NFL and Harbaugh knew that. He also knew Alex Smith while not a superstar was someone he could work with to manage games and win this weak division. But that's not even the main reason why this team won't be trapped into any bad losses this season. There are 2 key reasons why this team is unique.
One is the fact that this team is full of players that have not won anything of significance at the NFL level in their entire playing careers. Even if you look past the players who have spent their entire career in San Francisco others spent their careers in losing places before becoming 49ers. Look at Justin Smith (Bengals), Carlos Rogers (Redskins), Donte Whitner (Bills) just to name a few, those guys haven't won anything in their careers either so what you have here is a group of players that are extremely hungry and together.
The other reason is competition within the organization. Under Harbaugh each player must earn their role by practicing hard and playing well in games. No one is assured a starting spot or even playing time because of the name on the back of their jersey and that's one of biggest things that separates Jim Harbaugh from Mike Nolan and Mike Singletary the past 2 49er head coaches. Currently competition is on going at the fullback position between Bruce Miller and Moran Norris (when he returns from injury). The cornerback spot has a ton of competition with rookie Chris Culliver playing well in the #3 role and veterans Tramaine Brock expected back within the next week or 2. The wide receiver spot has yet to have a chance to set a true depth chart all season long with the rash of injuries resulting in another on going battle. Meanwhile Chilo Rachal and Adam Snyder have been battling it out for the right guard position.
With that much competition in the air and most of the players experiencing success for the first time in their careers has me convinced a "trap game" won't happen. The 49ers will sweep the NFC West and collect wins vs the Browns and Redskins just like they should. The games that worry me at this point are matchups vs the Ravens, Steelers and Giants, the supposed "trap game" I'm over that.
One thing Harbaugh preaches is that he wants things to suck for the 49ers. Get up and hour earlier, work out and extra hour, it may suck more but it helps the team. He warns the team of a guy he calls Freddi P Soft a medifore for getting soft of complacent when the team is playing well. Veteran Ray McDonald explained:
"'You got to watch out for Freddie P. Soft. He's lurking. He's around the corner. Watch out for him,'"
Follow me on twitter @Matt_NinerNoise
Tags: Adam Snyder Alex Smith Chilo Rachal Chris Culliver Jim Harbaugh Matt Hamm Shawtae Spencer The 49ers And The "Trap Game" Traimaine Brock