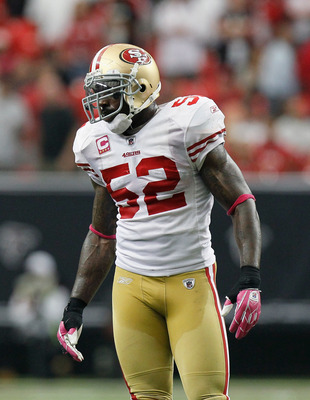 The 49ers are one of the hottest teams in the NFL with a 5-1 start that included a 3 game East Coast road winning streak. The team looked great pulling off the 2 most impressive comeback victories in the league this season with wins in Philadelphia and Detroit. Throw in the 45 point blowout of the Tampa Bay Bucs and the 49ers are playing as well as any team in football.
After starting 1-5 last season expectations for this season were low for the 49ers who weren't favored by many to win the lowly NFC West. The most eye opening part of the 49ers huge turnaround this season is that the hardest part of their schedule is already finished. Among the five teams at 5-1 and the 6-0 Packers the 49ers had by far the toughest schedule to open the season. Teams the 49ers have faced have a combined winning percentage of .559 compare that to the Lions .500, Ravens .444, Chargers .346, and the Packers .353 (no wonder they are 6-0!) is an indication of just how good these 49ers really are.
A look at some advanced statistics and the remaining schedule and the 2011 49ers may end the season as the top seed in the NFC.
READ WHY ON PAGE 2

Football Outsiders advanced statistics also show the 49ers to have the easiest schedule remaining in the entire NFL. Now we're not just talking about the teams that are 5-1 or better that's out of all 32 teams in the NFL. With 5 games remaining against the NFC West as well as games vs. the Browns and Redskins a 12+ win season should be the expectation for Jim Harbaugh's 49ers.
To sum it all up, the 49ers have proven they can beat good teams and they don't have to play very many more this season. The team has proven beyond a doubt they bring high tempo offense to a screeching halt. Football Outsiders ranks the 49ers defense 3rd (2nd in pts allowed) behind only the Ravens and Jets. With the 3rd best turnover ratio in the NFL and the top rated special teams unit in the league the 49ers look primed for the big time.
So far the 2011 season has been the perfect storm for the 49ers. The biggest obstacle may be staying healthy and focused. With Jim Harbaugh at the helm I can't see this team losing their intensity, after all a lot of these guys have been here for some miserable seasons and I don't see them taking the foot off the gas anytime soon. The team's health is one of the best in the NFL and with the bye week will be welcoming back wide receiver Braylon Edwards while giving others who have been banged up some time to heal with the week off.
More on the 49ers injury front tomorrow.
Follow me on twitter @Matt_NinerNoise
Tags: After Strong Start 49ers Set Up For Even Stronger Finish