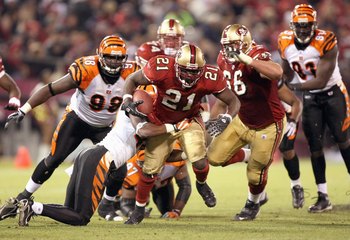 The Bengals were and probably still are one of the worst teams in the NFL. I don't care that Andy Dalton has looked good in 2 games, they are the Bengals. Someone is going to get busted for something other than 8 pounds of pot and a bunch of pipes. They are the Bengals ok at least that's what I keep telling myself. Truth is they have a few nice players in Dalton, AJ Green, Cedric Bensen, Leon Hall and all those lost 49er defenders.
So let's match it up, for the most part I'm going group vs. group but for some positions like QB it's 1 on1

Quarterback- Alex Smith vs. Andy Dalton- Dalton probably has the brighter future, but so does Colin Kaepernick (speaking of CK don't forget to vote in the recent poll 49ers Fan Poll: How would Colin Kaepernick fair as a starting QB?) and Smith is starting over him. If he were in Cincinnati he'd be doing the same thing so Dalton could develope (Carson Palmer anyone?). Dalton's numbers look better thus far because the 49ers just aren't passing much these days at the end of the day Smith's going to manage the game Jim Harbaugh wants him to and Dalton's going to make the first couple mistakes of his career.
Advantage: 49ers Smith
Running game- This is basically Cedric Bensen vs. Frank Gore but whatever we can dream of a little Kendall Hunter if we want to ok? Look I'm not explaining this here but the 49ers have the advantage enough said.
Advantage: 49ers
Wide Receivers-Bengals all the way here with Braylon Edwards recent surgery and Michael Crabtree's unpredictable foot this would be the other way around. Sadly we may not know about how good that combination could be for some time. Still Crabtree and TightEnd Vernon Davis still form a nice threat (if VD isn't asked to block all day).
Advantage: Bengals
Tight Ends-Vernon Davis and Delaine Walker vs. who's the Begals TE again? Exactly 49ers all the way here.
Advantage: 49ers easily
Offensive Line-Giving up 6 sacks to the Cowboys was as much to blame on the fact that no playmakers were on the field with Edwards/Crabtree out with injuries and Vernon Davis blocking all game. Without playmakers on the field and Harbaugh's conservative playcalling the defense was able to overwhelm the line. The 49ers have the superior line here agianst a weaker Bengals line than they've seen all season they should win their battles easily. Can' t say the same for the Bengals vs the 49ers Defensive Line
Advantage: 49ers
Defensive Line- See Offensive Line. Cincinnati doesn't boast an OL nearly as good as Dallas, ask Tony Romo how his ribs and lung feel (I know I've used that before I like it).
Advantage: 49ers easily
Linebackers: Patrick Willis are you kidding me? Moving on
Advantage: 49ers easily
Defensive Backfield: As badly as the 49ers played in the secondary last week the timely returns of Dashon Goldson and Shawntae Spencer should provide a boost. Leon Hall is a pro bowl caliber CB and can shut down his side of the field, something the 49ers don't have. Neither unit is very deep or overly talented but can get by if the front 7 gets pressure, as I said above don't expect that Sunday. Smith's going to have his best passing day of season.
Adavantage: 49ers
Special Teams: Ted Ginn Jr? Andy Lee? David Akers? Brian Jennings? Brad Seely? Cincinnati stands no chance against this special teams unit of the 49ers which may be the best overall in the NFL.
Adavantage: 49ers
I just called 7-1 advantage 49ers if your counting but that doesn't mean I think this will necessarily be a blowout. If the 49ers win the battle in the trenches and go hard after Andy Dalton early like I expect they will look for the young QB to give the 49ers defense some gifts on Sunday, it's up to the 49ers to play a complete game this time around on the road.
The 49ers face 2 straight East Coast games in Cincy this week and at Philadelphia next week (which yours truly will be attending!). As a result the team has elected to stay in Youngstown OH instead of going back to the West Coast. Coach Jim Harbaugh stated the team would bring along the practice squad for the week of practice between games.
Tags: 49ers Vs. Bengals AJ Green Alex Smith Andy Dalton Braylon Edwards Michael Crabtree Position Analysis Vernon Davis Week 3